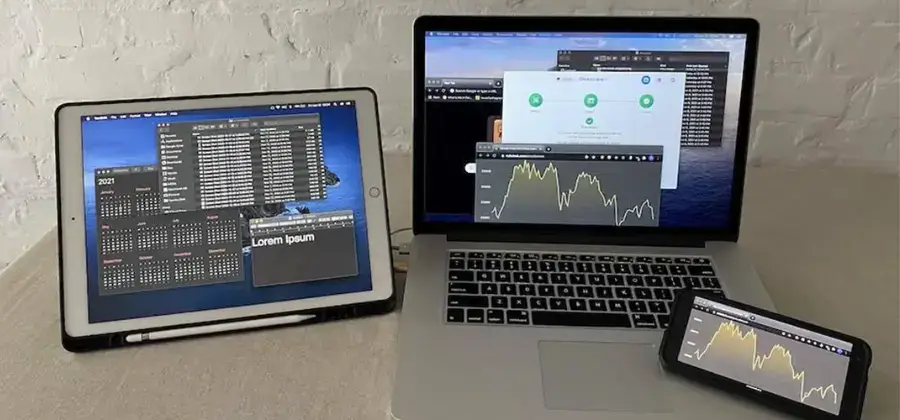 October 21, 2022

tech combact

0
Although it is the criterion of many that a good tablet can replace a computer, the truth is that both devices can complement each other, and one of the most popular examples is using a tablet as a monitor.
This option allows us, depending on the configuration we select, to project the computer screen on the tablet or perform different tasks on each device, which is very useful when we must copy information from one side to the other.
It is also a good alternative if we have an old tablet collecting dust in a drawer so that we can give it a second life both at home and at the office. If you are interested in knowing more details about how to do it, stay and find out in this post.
Related Article: How To Fix A Tablet That Won't Turn On Complete Guide
Auxiliary display types and configurations
Converting a tablet into a monitor, whether it is an Android tablet or an iPad, is possible through a good number of applications.
However, it can be confusing to select how you want to use the tablet as a secondary screen, so before we go on to recommend apps to achieve this, we will show you the types of settings or screens that exist:
Duplicate
When the screen is mirrored, the same will be displayed on the tablet as it is on the computer. Therefore, what we do in the latter will be reflected on the tablet, which can be useful if you have to teach what you are doing on the PC to other people (for example, in a learning context or when showing how to work with certain software ).
Enlarge
Extending a screen to a secondary monitor consists of extending the desktop from the PC to the tablet to work items independently. As what is shown on the screens of both devices is different, you can have different information on each display without having to continually minimize and maximize.
Second Screen Only
In this alternative, what we reproduce on the computer is only shown on the tablet. Thus, for example, if we put a movie to watch on the tablet, it will not have to be playing simultaneously on the PC.
Related Article: How To Choose A Tablet Complete Guide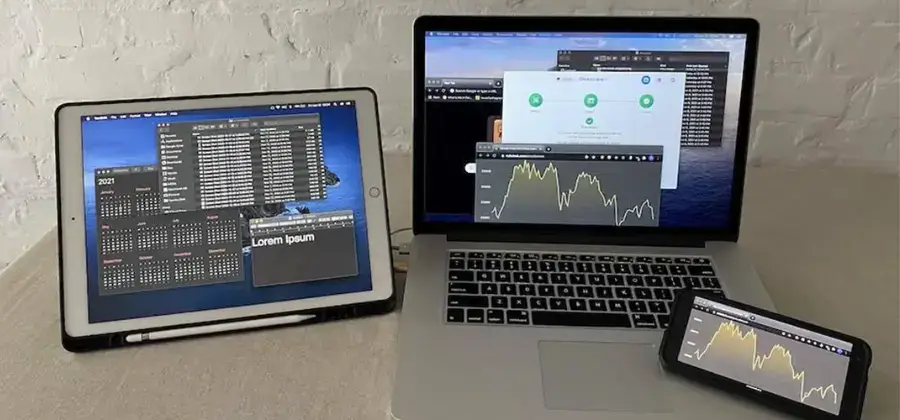 Convert tablet into secondary monitor via USB
Using a tablet as a second screen with a USB cable is extremely simple, through the following applications.
The biggest advantage of establishing this connection via USB is that there is less delay when displaying the image on the tablet, and the resolution of the image can be higher, of course, depending on the resolution of the devices that have it. you are connecting:
Related Article: How To Connect Bluetooth Keyboard To Tablet Complete Guide
1. Splashtop Wired XDisplay
The Splashtop Wired XDisplay application is totally free in 10-minute sessions, and it only works via USB, so you must have a suitable cable to connect your tablet to the computer or laptop. It is compatible with Windows and Mac.
To use it, we must install the app on both the tablet and the PC and perform the configuration, very simple, which will allow us to immediately enjoy a double screen on the tablet. Once you have verified that it works between your devices, you can purchase the paid version that has a price of 8$.
2. SuperDisplay
SuperDisplay is a paid app that, in addition to allowing you to duplicate or extend your computer's screen on any Android device, it also adds the touch pressure function on computers with Windows 10.
Therefore, you can use your tablet as a graphics tablet by connecting it to the PC. The application offers a trial period of 3 days, after which with a single payment of 10$ you will be able to access the program's services for life.
We especially recommend it if you have a Samsung tablet and an S Pen since the application adds extra compatibility with this stylus model so that you will be able to see on a larger screen, let's say that of your computer, what you are doing on your tablet.
Related Article: How To Connect Hard Drive To Tablet Complete Guide
Use tablet as a second monitor via WiFi
If you require greater mobility when using your tablet as a second monitor, perhaps it is best to establish the link through a wireless connection. That is why we propose the following alternatives:
1. SpaceDesk
To configure it, the process is simple and you only need to install the "server" on the Windows PC, and then install the "client" on the tablet. Once the app is installed on both devices, we must connect them to the same Wi-Fi network, and let the app on the PC detect the app on the tablet. After this, it only remains to select the Duplicate or Extension option. The only detail is that if you want to use the extended desktop mode, you will have to configure it manually in Windows as if it were a secondary monitor.
SpaceDesk is a free app that allows you to use a tablet as a secondary monitor for your PC. It can be used via USB, WiFi,Related Article: Complete Guide or LAN, and can be run on all devices with Android, iOS, or Windows operating systems, thus not being compatible with Mac.
Related Article: How To Speed Up Your Android Tablet Complete Guide
2. Google Remote Desktop
Another option available to use a tablet as a second monitor is Google Remote Desktop. It is an option specifically designed to connect Android devices to computers so that the screen of the latter can be seen on the smartphone or tablet.
The only negative point of this program is that it only works with an Internet connection since it requires that both devices be connected to the same Gmail account.
3. Miracast
Miracast is an application that would be an alternative to Chromecast, as it allows you to show your PC screen on your mobile, tablet, or smart TV. In the same way, you can use your tablet or smartphone to transmit content on your TV. In any case, if you want to use Miracast as a method to turn your tablet into a secondary monitor for your computer, what you must do is pair it via Bluetooth with the tablet, from the Display section, within the System Settings.
Before doing this configuration, we recommend that you check if your PC is compatible with Miracast, something you can find out through the XDiag software.
Related Article: Difference Between Ipad And Tablet Complete Guide
4. Duet Display
Finally, we propose an application that you can use to extend or mirror the screen of your computer directly on your Android tablet or iPad.
It is called Duet Display and its biggest advantage is that it is compatible with all operating systems, brands, and models on the market today. In addition, it provides excellent image quality and is lag-free, consuming a minimum of battery and processor.
You can use wireless (Wi-Fi) or USB connectivity, and it only requires the installation of the application on the devices you are going to use. Of course, it is not free, as it costs 11$. However, it is the highest quality and most reliable alternative for Apple device users.
These are definitely not all, but they are the best applications to convert your tablet screen into an auxiliary monitor. We hope then that this information has been of benefit to you.
Related Article: How To Format A Tablet Complete Guide