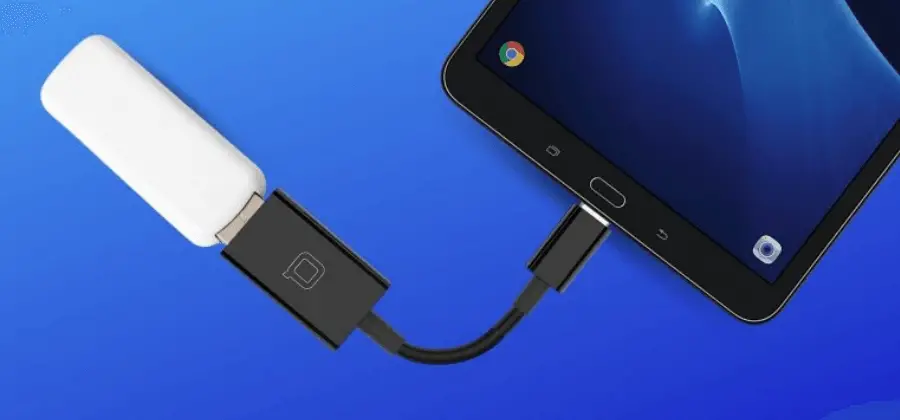 October 21, 2022

tech combact

0
Many users who are just taking their first steps with the operation of an Android tablet or an iPad, often ask themselves: can a USB be connected to a tablet? And the answer is of course! Unless your tablet is from before 2011, when Android 3.0 Honeycomb was released, you will have no problem connecting USB to the tablet.
Anyway, in this post, we will tell you what you will need to connect a USB pen drive to your Android tablet. We will also comment on certain additional settings that you may require for your tablet to recognize the USB memory.
How to view the content of a pendrive on a tablet?
Whether you want to transfer files from a tablet to a USB memory or vice versa, or because you want to manage the contents of the USB memory without having to turn on your computer, you will need a USB 2.0 port on your tablet to connect USB to Android tablet.
If this type of port, which is the standard for laptops and desktops, is not available, you can use the device's charging port, either micro USB or USB-C, to connect a USB OTG adapter.
Related Article: How To Connect Tablet To Tv Complete Guide
What is OTG on a tablet?
OTG is an acronym for " On the Go ": It is a cable to connect USB to tablets, smartphones, and other devices that do not incorporate a standard USB port, generally due to its smaller size.
How do I know if my tablet is compatible with USB On The Go?
The truth is that any tablet that is not too old surely is compatible with USB OTG. However, before purchasing an OTG adapter, you can check if your tablet is USB compatible just by downloading and installing the USB OTG Checker app.
When you open the app, it will check if your device is compatible with USB OTG. In our experience, these checks are usually quite superficial, not recognizing that a USB can be connected to an Android tablet, for example, if it has a manufacturer's own USB support.
The definitive test is always to try the OTG USB adapter, and if it does not work for the tablet, perhaps you can take advantage of it to connect a memory or external hard drive to your smartphone. Either way, it is not too expensive and it will always be possible to give you other uses.
Related Article: How To Use Tablet As A Monitor Complete Guide
So how do you use OTG USB?
Using a USB OTG cable or adapter is extremely easy. But let's review the step by step so that there is no doubt:
Connect the adapter and the pendrive
To connect Pendrive to the tablet, the first thing will be to connect the OTG adapter to the port of the tablet. Then you will only have to place the Pendrive at the other end available. The tablet will immediately display a message to alert you that a new storage drive has been connected.
Access the File Explorer
Through this message, you will have direct access to enter the memory through the default File Explorer app of the system. However, you can also enter any other similar app, such as ES File Explorer, and access the files in memory: You can copy them, delete them, move them, etc. Something important to keep in mind is that the USB OTG connection consumes a lot of battery in most cases, so we do not recommend consuming content from it.
Related Article: How To Fix A Tablet That Won't Turn On Complete Guide
How to safely remove the USB memory from the tablet?
Just as it is not advisable to remove without safely ejecting a Pendrive from your computer, you should not remove your Pendrive from the tablet without prior notice. Well, this could erase or partially damage the data on your USB memory. To remove your Pendrive safely:
Access the option " Unmount USB Storage " from the message in the notification bar.
Or, go to " Settings / Storage / ", there will appear the external storage units, among which will be the Pendrive. Tap on the arrow icon to unmount it, and then unplug it.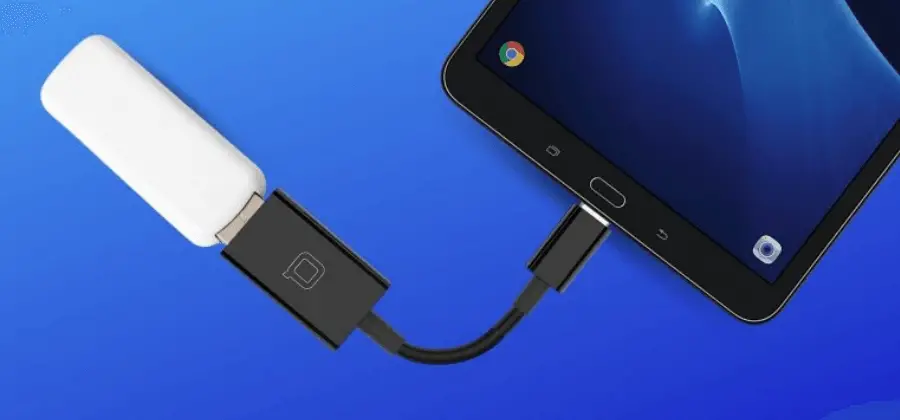 What to do if my tablet does not recognize USB?
Although the USB connection via OTG adapter should be a relatively simple process, in some cases it seems that nothing happened when we connected the USB OTG connector with the Pendrive to the tablet. In those cases, take the following steps:
1. Check the USB OTG cable and ports
To rule out any physical problem of the ports and the adapter, connect your tablet with its data cable to the computer, if it recognizes it you can rule out a physical problem in the micro-USB or USB-C port of the tablet.
Also, connect the USB OTG cable to your smartphone (if they have the same type of USB connection) and test it with the Pendrive. In case the mobile recognizes the Pendrive, you will have ruled out that the OTG cable has problems. If you don't recognize it, go to the next step.
2. Check the USB flash drive and format it
If when connecting the Pendrive to your computer, you notice that it presents errors, such as that it connects and disconnects continuously, or it takes a long time to load through the file explorer, considers formatting it to eliminate any problems in its operation.
In some cases, this is physical damage and cannot be fixed by formatting. However, you will have ruled out a malfunction of the rest of the accessories to connect to your tablet.
3. Enable the "USB debugging" option
Something very important and that most entry-level and mid-range Chinese tablets require, is to activate the "USB debugging" option to recognize any external device through the USB port it has.
To do this, you must first have the " Developer Options " activated :
Go to " Settings / About Phone / Software Information / ", then click on " Build Number " 7 times in a row .
At the 6th time, an alert will appear that you are about to unlock the " Developer Options", accept it, and click once more.
Once you have this new menu, go back to Settings, where you will find " Developer Options ".
Within this new section, find and activate the option " USB debugging ", and voila! Connect your OTG adapter and Pendrive to the tablet as we have previously taught you.
Related Article: How To Choose A Tablet Complete Guide
How to Connect USB to Samsung tablet
There are many people who have doubts about the process to connect a Pendrive to a Samsung tablet, and it is that before the devices of the South Korean brand had a different charging input to the current standard.
However, today most Samsung tablets have USB-C connectivity.
Therefore, you will only need a USB OTG adapter with the same type of USB port as the tablet, and at most, activate the " Debugging by USB ".
Now that you know how to connect a Pendrive to your tablet, we hope you can make the most of this new possibility of using your tablet.
Related Article: How To Speed Up Your Android Tablet? Complete Guide