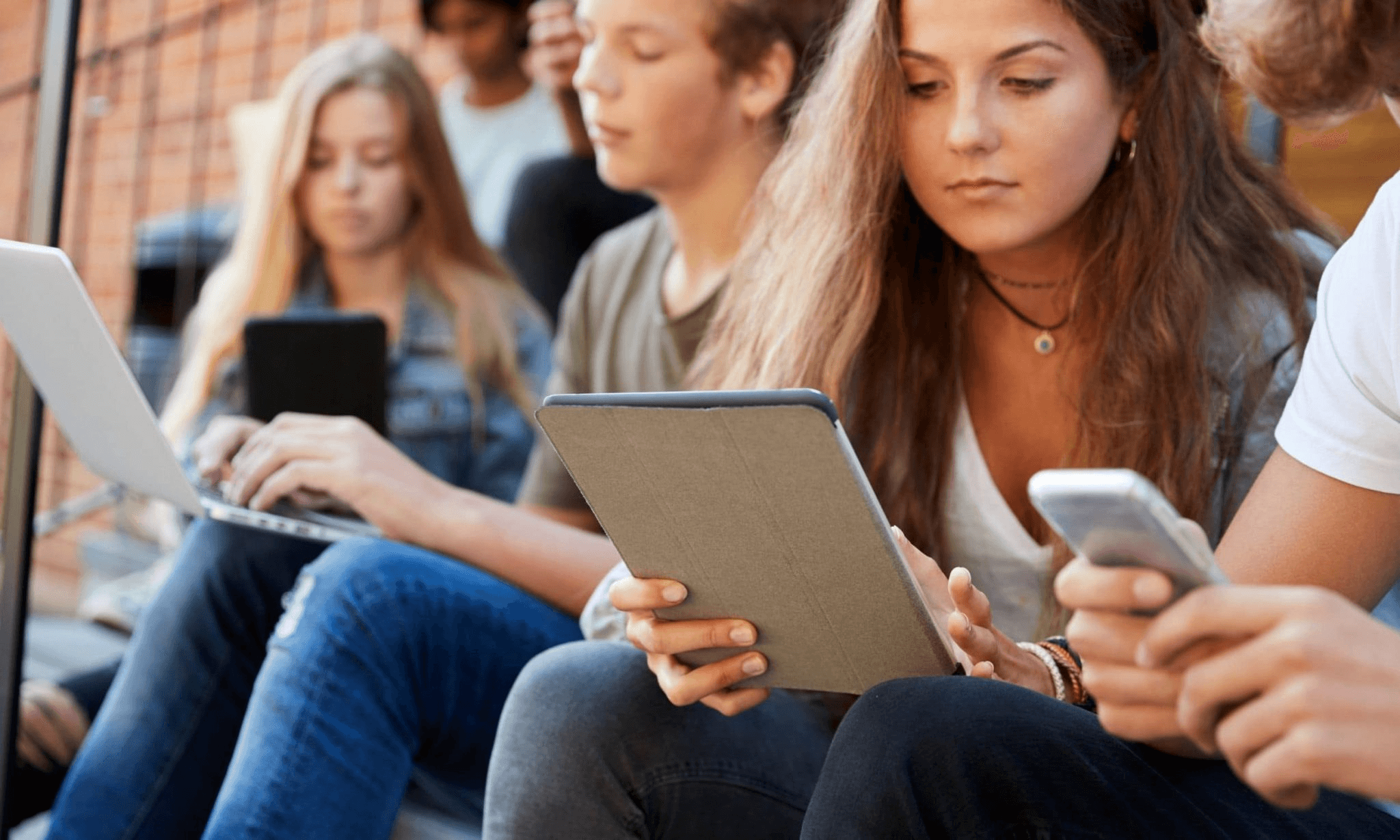 October 21, 2022

tech combact

0
The dividing line between laptops and tablets is becoming more and more blurred: with the arrival of hybrid tablets and laptops, the specifications increase and the prices decrease.
That is why it is not strange that many wonder if a tablet or laptop for students is better.
In this post, we will try to answer this question and we will also show you a guide on the specifications that each device must have if its use is planned for study and academic projects.
Tablet or laptop for elementary and high school students?
An elementary, middle or high school student can always benefit from the great versatility offered by both tablets and laptops. However, due to portability and price, many parents prefer to opt for a tablet.
In most cases, it is not difficult to find the best tablet to replace a laptop, since the options of tablets with a keyboard abound, and the inclusion of styluses makes it easy to take notes as if it were a notebook. The tablet in these contexts can replace a good amount of notebooks and books, thanking its lightweight when considering that children will carry this device with them every day.
In certain very specific cases: A laptop may be recommended, especially if the student has interests that require a powerful computer to run applications, for example, if he is studying basic programming, video editing or photography.
Tablet or laptop for university?
Choosing a laptop or tablet for university will largely depend on the degree being studied since a high-end tablet like the iPad Pro can be a perfect substitute for a laptop in the case of careers such as graphic design, architecture or engineering.
While for a programming student, a powerful device with a powerful processor such as those offered by Intel or AMD, an average of 16 GB of RAM and an independent graphics card is essential: characteristics that until now only computers have.
What should a tablet for students have?
We have dedicated previous articles to offering tablet options for students of all educational levels, so we will only focus on summarizing the features that a good study tablet should have:
Screen from 8″ to 10″ with cover and lens
The touch screen is the only component of a tablet that we have contact with. And although the 10-inch and 10.1-inch tablets are practically standard sizes, if you want to save a little more you can decide on an 8-inch tablet, which is also a good option.
Of course, a good tablet for students should include extra protection, such as a cover and screen lens, which prevents breakage when dropped and improves its grip.
Quad or octa core processor
In a tablet, the power is largely given by the microprocessor, the more cores it has, the better it will distribute the different tasks that are required when executing any application. In this sense, it is worth knowing the best-known brands of processors:
Qualcomm Snapdragon
ARM Mali
MediaTek
3 GB of RAM onwards
The capacity of RAM memory in a tablet does not influence performance so much as the ability to run multiple processes and applications simultaneously.
Of course, we are not saying that 1 or 2 GB of RAM is an acceptable figure, and it is certainly very little for the apps that are handled today.
32 GB of storage (minimum)
At the moment 16 GB of storage is already little for the weight and variety of applications that we can find. For this reason, we recommend a tablet with at least 32 GB of storage, with 64 GB being the ideal option.
Long duration battery
Tablets usually provide an average autonomy of 8 hours of continuous use, which is extended if it is less or if no videos are played during that time.
What should a student laptop have?
If we decide on a laptop for school, it is good to keep in mind that a Microsoft Surface Pro is not necessarily better than an HP Pavilion, even if the price difference is almost 500 $.
That's why it 's more important that you look at the specs rather than the price tag :
Procesador Intel Core i5 o AMD Ryzen
Among the best guarantees, we have in terms of microprocessor or CPU is the brand. That's why we recommend choosing a laptop with an Intel Core i3 , i5, i7 or i9 processor.
Although the i9 is the most powerful and fastest, an i3 is just as efficient if you don't need a laptop to render or play high-end games.
Another great competitor of the Intel brand is AMD, specifically the AMD Ryzen 3 is sufficient for medium-demand use, while the Ryzen 7 provides a work capacity comparable to the Intel i9.
8 GB of RAM and a 2-core, 4-thread processor
Keep in mind that a laptop is not the same as a tablet in terms of performance and that in laptops, performance depends on the processor as well as the type of hard drive and the amount of RAM.
Even powerful and expensive Microsoft Surfaces have dual-core, four-thread processors, so we'll prioritize a minimum of 8GB of RAM to run heavy applications, and a solid-state drive (SSD) over an HDD..
Independent graphics card
One of the great advantages of laptops is that they can have a graphics card independent of the processor. This allows the latter to relegate tasks that require higher performance at the graphic level such as video games, rendering programs and digital design to said card.
Highly recommended brands of graphics cards are Nvidia (GeForce series), ASUS (ROG and Cerberus series) and Intel ( Iris and UHD series ).
512GB Solid State Drive
Hard drive storage is very important not only because of the possibility of storing information without the need for external hard drives or SD cards but also because space is essential for the proper functioning of the operating system and the different applications.
In fact, it is preferable to opt for a laptop that has an SSD (Solid State Drive or solid-state disk) to achieve smooth running of programs and playback of content.
The problem with this is that at the moment, these types of disks are more expensive, and therefore an option of only 125 GB can make the purchase significantly more expensive and require extra investment in external storage.
Operating system x64 bits
In both desktop and laptop computers, operating systems come in 64-bit and 32-bit versions. Of the two, the 64-bit is the more advanced, since the 32-bit only detects up to 3 GB of RAM regardless of whether your computer has 20 GB of RAM.
However, choosing one type of system or another will depend on the microprocessor, since a less powerful one will require you to install a 32-bit version of the operating system. While a microprocessor with two cores and four threads will allow you to have the 64-bit version that will undoubtedly offer more advanced features.
In general, Windows 10 is good for most projects and programs, it is the programmers who usually prefer systems like Linux to work with Open Source and free software.
On the other hand, the Chrome OS system bases its use on a permanent connection to the Internet, since most of its apps and functionalities are in the cloud. Although they are cheaper than Windows laptops, they are less powerful and have lesser application support.
Medium size and light
In terms of weight and size, an 11-inch, 12-inch, and 13-inch laptop are small and generally light, but generally less powerful. Eyestrain can be a big problem if you have to spend long hours staring at the screen.
While a 14-inch and 15-inch screen is already a medium-large size, you have to consider portability on a day-to-day basis.
USB 3.0 ports
The number of ports on a laptop is also important: if we prefer to connect a mouse instead of using the trackpad, we need other free ports to connect flash drives or other devices such as smartphones or hard drives.
Some laptops include one or more USB 3.0 ports in addition to USB 2.0, which provide the fastest read and write speeds.
portable battery
In laptops, the internal battery life is around 3-5 hours if we use demanding programs, or perhaps a little more. That is why the external battery must be light and easy to transport, as well as be able to connect to any plug or have appropriate adapters.
Conclusion: Is a tablet or laptop better to study?
We can conclude that:
Although a tablet is a better option in terms of price, size, weight and autonomy than laptops, the latter usually have a longer lifespan, better technical characteristics and a more complete operating system.
Therefore, the decision between which is better for students: tablet or laptop will depend on the specific needs and concerns of that student.
But, if you ask us if a tablet is useful for university, without a doubt we will say YES. As we have to give you the same answer if you ask us about a laptop for elementary, middle or high school students.