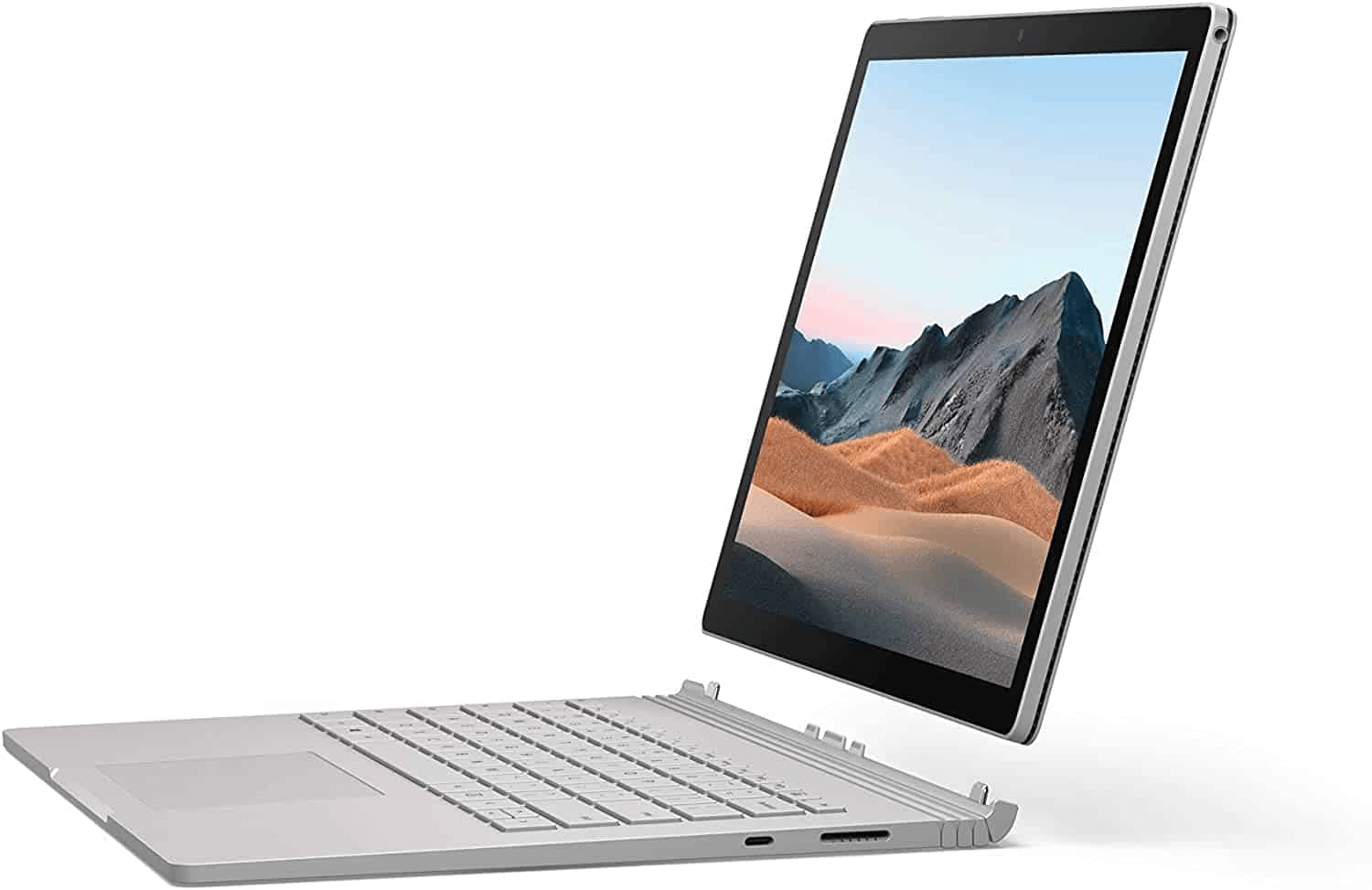 October 21, 2022

tech combact

0
The idea of ​​replacing a laptop with a Windows tablet may sound crazy to many. But others will find it a more than comfortable and feasible option.
Currently, the demand for hybrid tablets, or 2 in 1, has prevailed in the market: they allow you to work comfortably by including a keyboard or detach them from it for greater portability.
It is noteworthy that most of these devices have operating systems that are usually associated with laptops, including Windows. This makes many users wonder if they could really replace traditional laptops, looking for a greater lightness, portability and of course, lower price.
If you are currently thinking about the idea, today we will show you what options you have on the market for the Best Windows tablet. In addition to some buying tips choose a tablet with that operating system that meets your needs.
Best Windows Tablet-[Ranking]
Surface Book 3- The best high-end Windows tablet
Chuwi U Book X- The best value for money with Windows
EZpad 6 Pro- The cheapest and good quality option with Windows 10
TECLAST F5- The best Windows tablet/laptop
1. The best high-end Windows tablet
Surface Book 3
Features
Processor: Intel Core i7-1065G7
Processor Speed: 1.3 GHz
Laptop Class: Detachable 2-in-1
Dimensions: 12.3 x 9.14 x 0.91 inches
The Microsoft Surface is known in the market for its excellent performance, and for its very high prices. But hey, in his defence we must point out that the Surface is the only devices that, in our opinion, offer full guarantees as tablets and as laptops.
For this reason, although it is not exactly the cheapest option, we suggest you consider it if you plan to replace your old computer. We tell you why:
The Book 3 model, which is the one we have selected for this comparison, has a luxurious metallic finish, which is perfectly complemented by a 13-inch diagonal.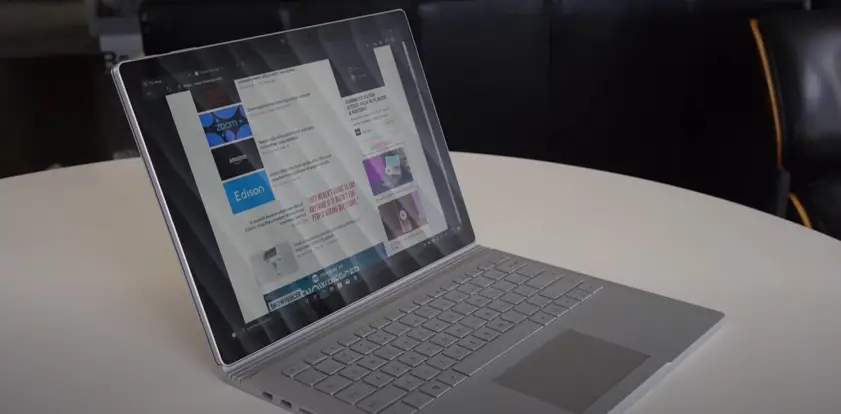 The screen exhibits a PixelSense panel with IPS LCD technology, with a resolution of 3000 x 2000 pixels and a density of 267 dpi , which translates into spectacular image quality. As for brightness, it is above 300 nits, ideal for outdoor use.
At the hardware level, we have a tenth generation Intel i5 processor with four cores, and a dedicated Nvidia graphics card: the GTX 1650, which is not the most powerful, but it is close to the frame rates per second of a gaming laptop. mid-range.
While it's powerful enough for most uses, compared to the other tablets in this comparison, it's not as powerful for 3D rendering. It is also necessary to reduce the resolution of the latest generation games to medium quality so that they run smoothly (although if your maxim is video games, we recommend you opt for a gaming laptop instead).
Suppose you still bet on Microsoft's tablet PCs. In that case, we recommend an option at almost half the price (588 $): the Microsoft Surface Go 2, which has a 10.5-inch Full HD touch screen, Intel Pentium Gold processor, 4 GB of RAM, 64 GB of internal storage and Windows 10 Home operating system.
And a little above the Microsoft Surface Pro 7 (1,050 $, with a usual discount of up to 799 $), which has a 12.3-inch screen, Intel Core i5 processor, 8 GB of RAM, 128 GB of SSD hard drive, Intel graphics card Graphics and Windows 10 operating system.
Double speaker with Dolby Atmos sound system.
5 MPx and 8 MPx sensors (both recorded in HD)
Excellent graphics for a tablet of its size.
High-quality keyboard (Surface Type Cover), with hinges that provide good support in laptop mode.
Surface Pen is compatible with Photoshop, Corel, Office, etc.
It has a double battery, which allows autonomy of 11 hours.
It does not have a Thunderbolt 3 port.
It only has a range of 2 to 4 hours if used as a tablet.
The firmware is outdated, for this reason, it is necessary to download the latest drivers.
You may also like: Best Tablets With a Keyboard
2. The best value for money with Windows
Chuwi U-Book X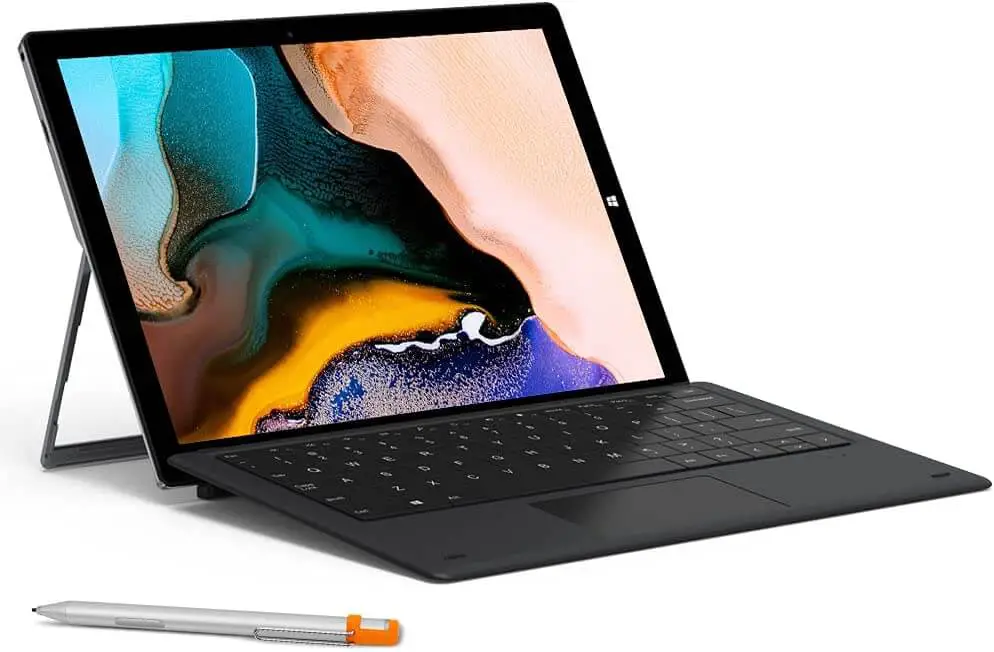 Features
Product Name: UBook X
Wireless: 2.4G/5G,WiFi 802.11a/ac/b/g/n, IEEE 802.11ac,Bluetooth 5.0
Keyboard: Chiclet Keyboard (No backlight)
Operating System: WIN10 1909
In other posts, we have talked about the characteristics of the CHUWI tablets, which stand out for their good value for money. On this occasion, the U-Book X model is an excellent option in that sense, and although it does not include a keyboard in its purchase, you can easily combine it with any good quality keyboard that you prefer.
This tablet is 12 inches in size, and has a 2K resolution and IPS panel: which translates into a screen quality suitable for its size, and good sharpness and contrast in images. The termination is metallic and has U-shaped support to place it at an angle of 145 °.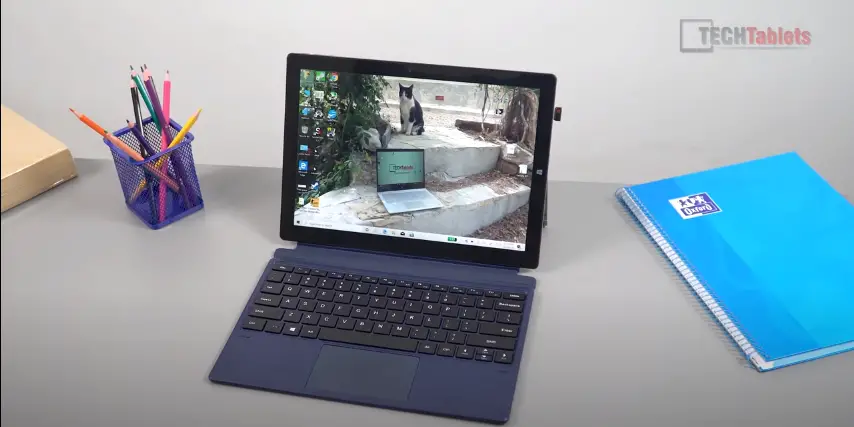 It has an Intel Gemini-Lake N4100 processor that reaches 2.4 GHz, and that together with the 8 GB of RAM offers good performance and high speed for browsing, multimedia playback and multitasking. Storage is more than enough, the 256GB comes in the form of a solid-state drive (SSD) , for much more efficient read and write speeds.
Good internal storage, expandable up to 128 GB extra.
It has a USB 3.0, mini HDMI port and USB type C.
Good screen size and high-quality resolution.
It incorporates a graphics card inside the SOC UHD Graphics 600.
A good option for a tablet with Windows 10 operating system and cheap keyboard.
The speakers have a metallic sound, of poor quality.
It is not suitable for games and programs with high demands on the processor or graphics level.
You may also like: Best Tablets Under 300$
3. The cheapest and good quality option with Windows 10
EZpad 6 Pro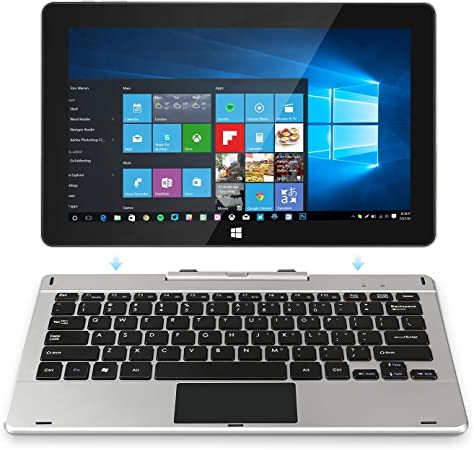 Features
CPU model: Atom
RAM memory installed size: 6 GB
Operating System: Windows 10
CPU speed: 1.1 GHz
The Jumper EZpad is without a doubt the cheapest (and worthwhile) option you'll find right now with the Windows 10 operating system.
The Pro 6 model is very similar to the Surface that we showed above, as it has a keyboard that can be assembled using hinges. As a tablet, it has an 11.6-inch screen in Full HD resolution, which offers a clear image, with adequate saturation and a good angle.
Of course, the finish is made of plastic, which we don't like too much due to the fact that it causes the components to overheat, but for the price and what it offers in terms of hardware and user experience, we believe that it is totally normal and is justified.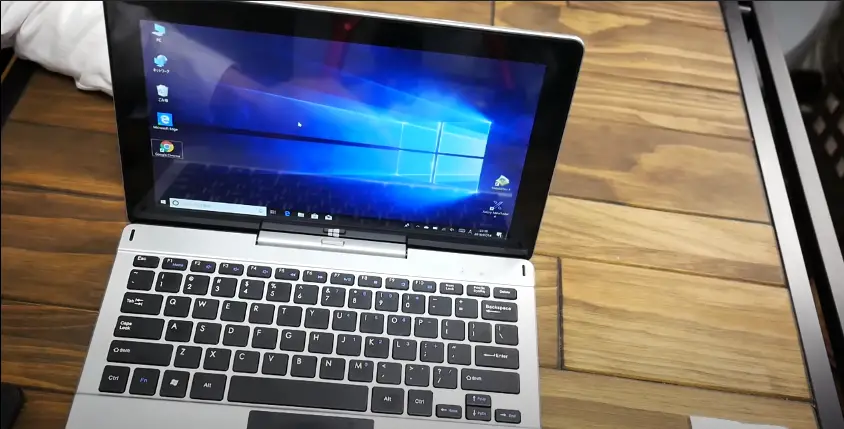 We have an Apollo Intel Atom X7-E3950 quad-core processor, which may perform well for office applications, but will suffer with games and videos, or heavier tasks. The 64GB storage is a bit tight for the apps that Windows uses, but we can expand it with a 256GB card.
It works fast and smoothly with office applications and undemanding tasks.
It has a stand-by function that provides 20 hours of standby time.
USB 3.0 port, micro USB, micro HDMI, USB-C port and DS-IN.
Large screen with good resolution.
The keyboard is sold separately.
The 4,500 mAh battery provides only 4 hours of video playback.
You may also like: Best Tablets Under 500$
4. The best Windows tablet/laptop
TECLAST F5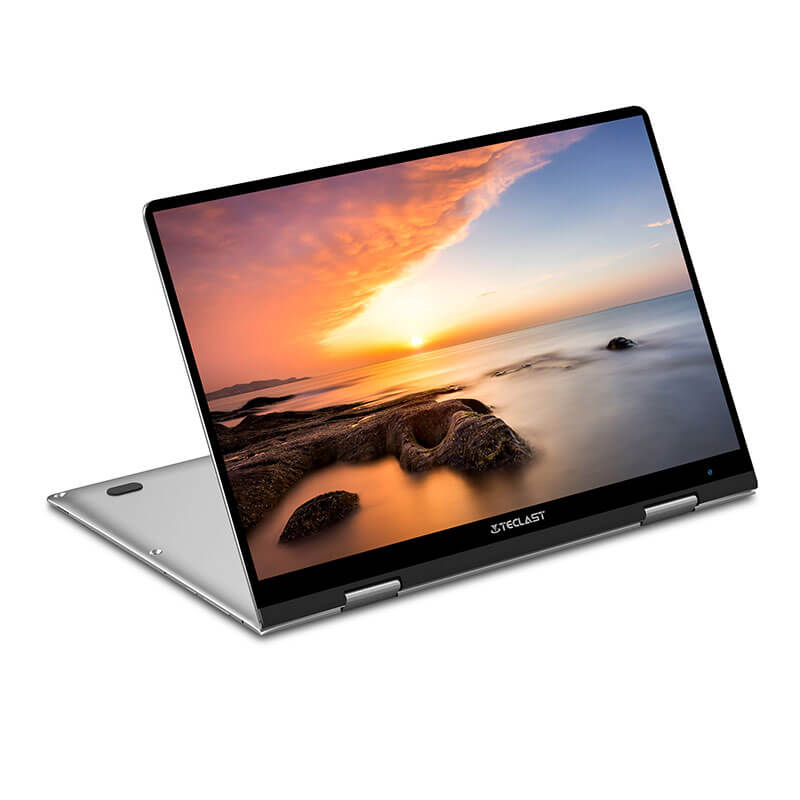 Features
Chipset: Intel Celeron N4100 (2018)
SSD: 128GB SATA3 M.2 SSD
Ram: 8GB DDR4 2400Mhz
Screen Res: 1920 x 1080
TECLAST is another good brand of tablets, which especially stands out in the economic segment with Android devices, but which surprises us with an option that comes with Windows 10.
It is the T5 model, with a totally metallic body and that has an 11.6-inch screen and Full HD resolution. Although it is a 360 ° device, that is, the keyboard cannot be separated from the screen: in tablet mode, it is still very light.
The 8th Generation Intel Gemini-Lake processor enables good performance for multimedia use, with 8GB of RAM to ensure smooth multitasking.
The internal storage is in the form of a 256 GB solid-state drive (SSD), expandable via micro SD up to an extra 256 GB.
The 3,850 mAh battery, although it seems little, is very well used and provides a range of 9 hours (it incorporates fast charging).
Adequate picture and sound quality (and even more than expected) for the price.
USB-C port and micro HDMI.
Bluetooth 4.2 and Wi-Fi connectivity at 2.4 GHz and 5 GHz
Screen responsiveness is not high with generic pens.
The USB port, apart from type C, is 2.0, extremely slow.
Conclusions
After learning about and analyzing these tablets with Windows operating system, we opted for Microsoft's Surface Book 3, as it is an all-terrain Windows tablet that offers great "performance" when using professional apps and has all the guarantees of a brand like Microsoft.
It has everything, or almost everything, to offer you the best experience in the Windows ecosystem and with the advantages of a tablet. An i5 processor and a dedicated graphics card. Good internal storage and an adequate number of ports for connectivity.
Although we understand that it is not suitable for all pockets and in that case, our second-best option would be the Chuwi U-Book X, which for its price is a very affordable option.
Buying guide: Which tablet to buy with Windows 10?
Windows tablet users are not just any type of user: They know and are comfortable with the operating system, so they prefer to have it on more than one device. They are looking for versatile equipment that allows them to use it for work, study and leisure.
Finally, and we believe this is its most distinctive feature: many times they are looking for a second computer or a replacement for their old laptop.
In this sense, it must be taken into account that the power of tablets is not intended to compete with the most advanced laptops, but the truth is that you can often find better tablets than many mini-laptops and mid-range laptops.
So do not make a mistake: if you are looking for a computer to play with, the best thing is that you opt for an iPad or a gaming laptop. If you need one for demanding rendering and design programs, a Macbook or a high-end laptop is best.
Now, when your needs are more common: answer e-mails, write documents, navigate, check social networks and entertain yourself, a tablet with a Windows operating system may be the ideal option for you (especially if it already comes with its keyboard). .
In order not to make a mistake, here are some recommendations on the most desirable specifications in a tablet with a Windows system:
hardware and performance
Most Windows tablets require a slightly more powerful processor than smartphones (which manufacturers sometimes adapt to tablets), which is why it is very common to find tablets of this type with Intel: but, in addition to the name, you should pay attention in what accompanies him.
We will very frequently see the Intel Gemini-Lake (low-power CPU, based on the Pentium and Celeron architectures), the Intel Pentium M3 (the most basic of the Y series, with two cores and 4 threads) and in high-end options, the Intel i5 series (medium and medium-high range at an affordable price) or even the i7 series (with four cores and with greater capacity).
These tablets include between 6 GB and 8 GB of RAM, to ensure multitasking capacity, only the device will still slow down if the processor does not accompany it.
Screen size and resolution
The times of 8-inch and 9-inch screens are already in the past. Nowadays, to enjoy an image with adequate size, the most convenient thing is to opt for a diagonal of 10" or more. Clearly, the larger it is, the more expensive it will be.
Other variables also influence the quality of the construction of the screen, for example LCD is the cheapest type of panel, OLED and AMOLED are medium-high range and Super-AMOLED, you can imagine in what price range it can be found, No?
The resolution is another thing to take into account, HD for 10 inches will make the pixels look from afar, so it is advisable to look for resolutions such as Full HD and 2K , very common in mid-range and high-end devices, and if we are in this category, we can opt for a 4K screen.
Internal storage
Storage on a Windows tablet is crucial because the apps we use on this operating system aren't exactly lightweight like those on Android .
Therefore, a storage of 64 GB could fall short, and it will be convenient for us to have the possibility of increasing the available space through a micro SD, of at least 128 GB.
connectivity
This is another one of those details that make the difference between a multipurpose tablet and a basic one. Bluetooth is fine, but we will have to pay attention to whether it allows us to include a SIM card so that we have an Internet connection in places where there is no Wi-Fi service.
In addition, in the case of this last option, it is convenient to opt for a device that incorporates Wi-Fi at 5 GHz, especially if what we are interested in is enjoying streaming content.
Design and finish
Although this in a tablet that we choose for its operating system, does not seem so relevant, the truth is that it is highly recommended to opt for durable construction materials .
Such is the case of metal, aluminium alloys and magnesium, as these will be the ones that provide the greatest lightness, resistance and protection against overheating. Of course, we're not saying that ABS plastic isn't tough, but are you looking to have a long-term relationship with your tablet or just a couple of months of companionship? Think about it.
Frequent questions:
To conclude, we've put together a series of questions asked by users looking for a new Windows tablet or undecided between buying an Android or Windows tablet.
If you still have questions about whether this type of tablet is the best for you, take a look at these questions and you may find your question answered here!
What is the best tablet to use as a PC?
Before answering which is the best tablet to use as a PC, you should ask yourself what you usually use a computer for. Is it for office, work and leisure purposes? Or do you have a job or hobby that includes advanced software, requiring processor and graphics power?
If your needs with a computer or laptop are basic, you can perfectly opt for a Windows tablet from CHUWI or TECLAST, as these manufacturers already have a track record of offering good tablet PCs with excellent value for money.
In our comparison, we have presented the CHUWI UBook Pro and TECLAST F5 models, but there are many other models and offers on Amazon that may or may not include accessories. To use it as a PC, of ​​course, we recommend that the tablet includes a keyboard or that the model has a 100% compatible one.
Now, if you need a computer for editing, professional illustration or programming, it is best to opt for gaming laptops such as the Alienware m15 R4 , the Asus ROG Strix G15 AMD Advantage Edition or the Lenovo Legion 5 Pro .
What is better an Android or Windows tablet?
All operating systems on a mobile device have their advantages and disadvantages: The Android system is optimized for the touch interface, and it better tolerates the operation of multiple applications at the same time (as long as the device has a minimum of specifications).On the other hand, the Windows system is better for applications that are used for long periods of time or require heavy processing, such as word processors or image and video editors. Actually, deciding which one is better depends on the needs of each individual.
What are Microsoft tablets?
Microsoft has a fairly extensive line of 2-in-1 tablets called the Surface, starting with the Surface Pro model in October 2012, all the way up to current models, including a mid-range series, the Surface Go (currently Surface Go 3 ) . . An upper mid-range series, the Surface Book , and the high-end series: the Pro (currently Surface Pro 8 ).
What is the name of Windows for tablets?
With devices such as tablets and 2-in-1 laptops in mind, Windows 10 S was designed, a lighter version of the Microsoft operating system.
We'll often find on tablets, the Home version of Windows 10, which lacks the remote desktop option, the Windows Store for Business, or shared PC setup.
Which tablet is for Office?
Actually, you can use the Office suite on an Android or Windows tablet. However, it is preferable to use a tablet with the Windows operating system, since Office, being a suite of advanced word processing tools, can present delays and crash on the most modest Android tablets. Within our selection, we especially recommend the Surface Book 3 and the CHUWI UBook X , although they all have enough capacity to allow the use of the Office suite with ease.
How to know if a tablet has Windows?
If you come across a tablet, and you don't know if it has the Windows operating system, but you suspect that it is the case because of the user interface. Just head to Settings and look for the Device info option, or About phone.
In that or another section with a similar name, the version of the operating system should appear, and clearly, if it is Windows, it will appear as such.
How to change the operating system of an Android tablet to Windows?
If you want to change the operating system of an Android tablet to Windows, it is important that you first have a tablet with hardware powerful enough to support Windows, which even in its S version is a much heavier system than Android.
Opt for a tablet with features comparable to a tablet that has an Intel Celeron processor, or what is the same, tablets like the ones we present in this comparison.
Once you have the right tablet, follow these steps:
Enable USB debugging on your tablet (Enabling Developer Options first).
Install the Limbo PC Emulator software on your PC, and make sure you have a stable Internet connection.
Enter the program and go to the Advanced / Full Screen/section and then select the Android option.
Next, the program will download the necessary drivers from your computer to the tablet.
You must download the File Explorer app on the tablet, and then connect the device to the computer using a USB cable.
Move the Windows ISO file that has been downloaded using the File Explorer application, to the folder called Limbo.
Open the Limbo app, select a hard drive to upload the image to, and tap Open.
After loading the image, you will only have to press Play and the ISO will be loaded.
Something very important that you should know is that you will not actually change the operating system of the tablet, but you will mount a virtual image of the Windows system.
To finish …
In short, we hope that with this guide and comparison of the best Windows tablets it has become clear to you what to look for and what to expect from this type of device. And if you've gotten hooked on the 2-in-1 theme, don't forget to take a look at our comparison of the best tablets with keyboards in 2022!