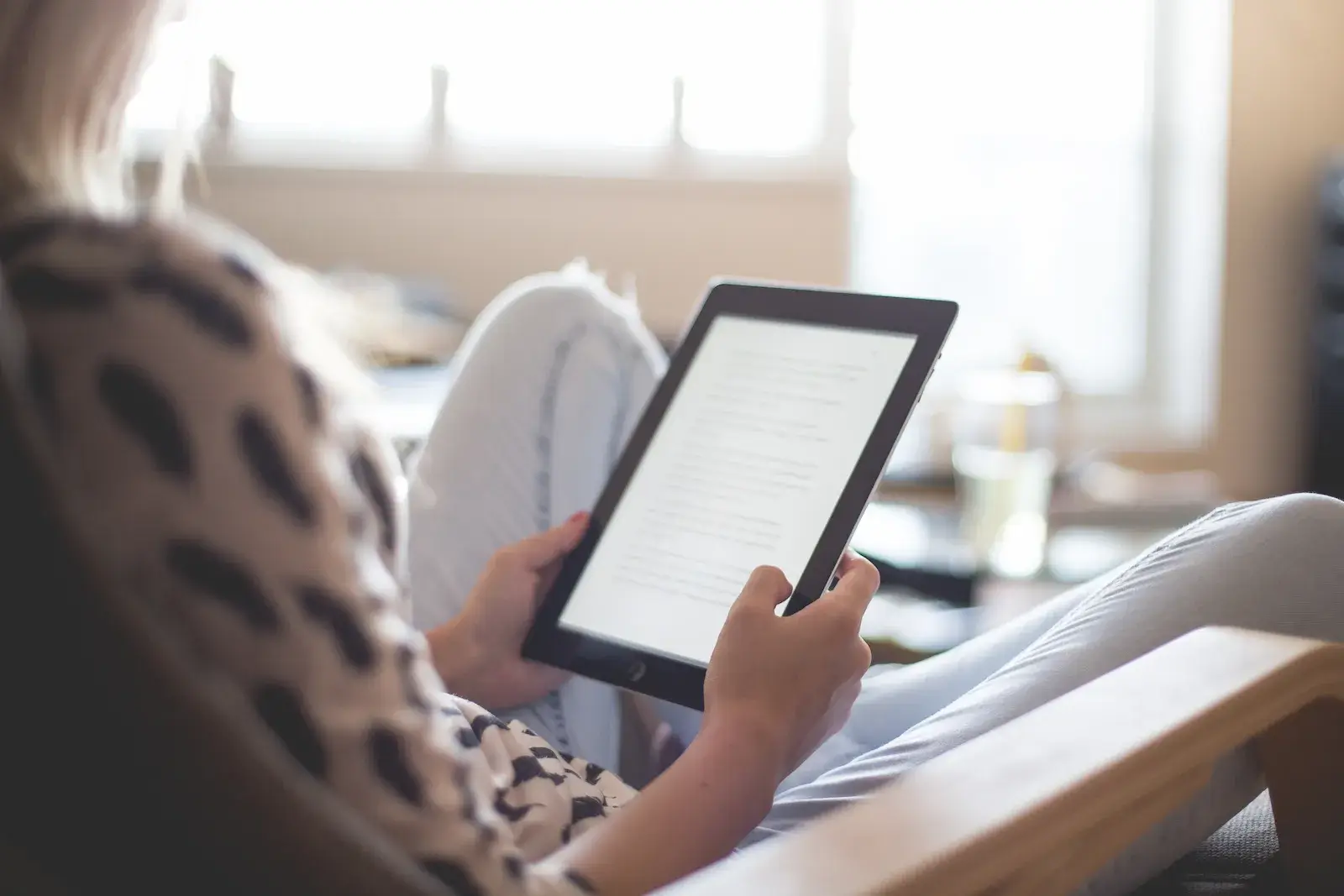 October 21, 2022

tech combact

0
There are two types of users looking for a tablet to read : Those who read about 50 pages a day, and others who spend the day glued to a screen like true book eaters.
For any of them, the electronic book format is the greatest blessing that could have been invented. However, their needs are totally different.
Our experience with the ebook readers that we will discuss in this article has shown us that there are no half measures between them and tablets:
If you are a true lover of literature, who spends hours and hours immersed in the written word, the ereader is made for you. Although we must also point out that on many occasions the multi-functionality of electronic devices prevails.
So we have also included in our selection a couple of tablet models that, due to their characteristics, seemed very suitable to replace a real tablet for reading.
If you want to know what you should take into account to select one or another option, stay and discover all the details.
Characteristics that differentiate an electronic book from a tablet
If we have verified something when testing the ebook tablets of this comparison, it is that in terms of reading experience they do not harbor comparison with any common tablet. An ereader does not compete with a conventional tablet, but with the physical book… and unless you are a sentimentalist, it wins .
Now, compared to tablets, an ereader has features designed to make it a workhorse when it comes to consuming ebooks.
For this reason, below we will tell you about the main differences between tablets to read books proper and any Android or iOS tablet model:
Electronic Ink System
While the screen of a tablet has LCD technology, that of an ereader has a system called E-Ink, or electronic ink, which perfectly simulates the sheets of paper regardless of the size of the electronic book .
Definitely if you are a devourer of books, a tablet with electronic ink is practically indistinguishable from the physical book format: it allows you to read even in bright sunlight and does not emit reflections.
As the only drawback, we could point out that the refresh rates of this system are much slower than those of an LED screen, so it is somewhat cumbersome to zoom in on web pages or PDFs.
Although E-Ink has traditionally always been black and white, color electronic ink is also a promising developing technology.
Screen resolution
The e-ink system really helps a lot to appreciate the sharpness of the letters without any trace of pixelation in them. However, another feature that you can appreciate even in the cheapest ebooks is the resolution they have:
By having 300 pixels per inch, the viewing experience of images and letters is much more satisfactory , and this pixel density in a tablet you will only find from 400 $ or more.
LED lighting
While a tablet emits light through its backlight, an ereader has LED lights mounted along the frame that cast light evenly onto the screen . So it reduces visual fatigue and you can easily read for long hours, without feeling the effects of a screen in your eyes.
Waterproof
Not all, but many mid-range and high-end ereaders like the ones we present to you today, are resistant to accidental immersion . So you can enjoy a comfortable reading in the pool or on the beach, without fear of losing your reading device.
Ergonomics
When it comes to reading for long hours, comfort is a very important factor. And if you're going to read on a screen, we definitely recommend the experience of an e-book reader. After all, these have been built with comfort in mind:
They're much lighter than most tablets, and they're designed so you can hold them effortlessly with one hand . Even the buttons are oriented for that purpose (although this part is halfway, as manufacturers do not seem to take left-handers into account yet).
Autonomy
An electronic book reader, being designed for reading and enjoying audiobooks, makes better use of its battery. Although in many cases it does not exceed 2,000 mAh, it allows continuous use for up to a month and a half, depending on how much you read .
This far exceeds the autonomy of a conventional tablet, which at most allows a couple of days of use. But think that a tablet does much more: you watch movies, play games, browse, interact on social networks, make video calls, etc. It is logical that autonomy is much less.
Top 7 best tablets to read books
Now that the main differences between a tablet and an e-book reader are clear, we suggest you take a look at this comparative guide of the best devices for reading e-books:
1. Amazon Kindle Oasis: The most recommended Premium e-book
he Kindle Oasis is not only the best ereader you can buy, but also the Premium proposal from Amazon, who for years has been positioned as the largest seller of ebook readers on the market.
It is an ereader with an impeccable appearance and finish : The aluminum casing allows a proper grip, while providing unparalleled lightness. It only has a couple of properly sized buttons on the right side of the screen for page turning, where it also packs the weight for much better ergonomics.
The 7″ size offers excellent reading, because it fits more lines than in the 5 and 6 inches. The illumination with its 25 LEDs is noticeable in a perfect visualization in diverse environmental conditions , and by having adjustments to control The warmth of the light achieves a perfect effect for reading at night.
The slowdown, which is very common in ereaders, is practically not a problem in the Kindle Oasis: when turning pages and going from one menu to another, a great fluidity is noticeable .
Something that has really seemed very attractive to us is the possibility of synchronizing the readings through the Amazon Kindle app:
That is, if you read on your Kindle Oasis, but then want to check the reading on your tablet or Smartphone, you can continue at the same point where you left off. And we can't forget that it gives you free 4G connectivity to download all the books you want, without having to rely on Wi-Fi .
While writing this review, it seemed to us that some people might be wondering why not buy an Amazon Fire 7 tablet instead, which is about the same price and allows you to do more:
The answer is simple, the Fire 7 tablet, although it is from the same manufacturer, has a screen in which the pixels are avoided: so that reading is not only uncomfortable, but reading for several hours is almost impossible. The level of brightness and contrast of the screen will not help either, and we assure you that you will end up with a good headache.
7″ screen with 300 ppi resolution.
Allows you to adjust the brightness and warmth.
You can opt for an 8GB or 32GB option.
Waterproof.
Optimum speed and responsiveness.
Possibility of listening to audiobooks.
Synchronization of reading between various devices.
Free 4G connection to download books.
It is the most expensive option among e-book readers.
The charging port is micro USB, we miss a more modern connector such as type C.
2. Amazon Kindle: The best value for money
In this option the slowdown and lags are evident. In addition, the replacement of the buttons of previous generations for a full touch screen makes the responsiveness much lower than what users of this basic Kindle were used to .
We understand that the e-ink system is slower by nature, but without a doubt the absence of buttons influences the fact that we have had to press for several minutes to enter the menus or even go back.
Great value for the price.
Autonomy of between 4 and 6 weeks.
Adjustable front light.
Fair size and ergonomics.
Free cloud storage for Amazon content.
Does not automatically rotate the screen.
It is not waterproof.
Extremely slow touch screen responsiveness.
3. Kobo Clara HD: The most functional e-reader
If you are looking for a good tablet to read pdf, epub and honestly any other format, you should know that there is life beyond the Amazon Kindle. This is demonstrated by the Kobo brand, which has numerous options for book readers or ereaders, among which the Clara HD model stands out.
In this, the 6-inch screen has 300 pixels per inch and 13 LEDs that, although they have a slight light leak, with the orange light option we achieve a more comfortable reading in low-light environments, than with other models such as the Kindle and the Paperwhite.
It's smaller, lighter, and with more discreet bezels than the rest of the Kindles in our hands. And while the Kindle Oasis also has thin bezels, on the right side of the screen is a thick bezel that makes the Clara HD stand out for the better.
It has 8GB of storage and we really think it is a sufficient size for content such as electronic books. Like the most basic Kindle model, the Kobo Clara has an almost full touch screen (there is only a button at the bottom to turn it on and off), but in this the responsiveness and refresh rate is higher .
So although the buttons could have contributed in terms of practicality, the experience is much better for only 19 $ more.
Excellent screen resolution for its price.
It has options to change the color temperature.
KOBO's online store has more than 5 million books (on par with Amazon Kindle).
It is compatible with iOS and Android.
If you have Kindle ebooks and you update or sync your library, you may lose books that were not purchased from the Kobo Store.
4. Kindle Paperwhite: Best for Outdoors
Of course, it is a 140 $ ereader, so it is in an intermediate price range. Another of the best aspects that this reading tablet incorporates is the free 4G connection and water resistance : both characteristics of its more expensive sister, the Oasis.
You have the opportunity to choose between 8 GB and 32 GB of internal memory , and although the first is very good, comics consumers will definitely benefit from the second: Well, in this range there are no traces of ink left where before. they found the images, turning the page.
The touch screen is very responsive, so no physical buttons are missing.
Very portable 6-inch size and excellent resolution.
Features similar to the Kindle Oasis, but with a much more competitive price.
Extremely long range.
Documents outside of Amazon products cannot be officially downloaded.
Construction material more fragile than the Oasis and less ergonomic.
5. Pocketbook Basic Lux 2: The pocket e-reader
The PocketBook Basic Lux 2 is a slightly less affordable alternative to the basic Kindle, but it certainly adds up in price to make it smoother . It is not a touch ereader, but has buttons at the bottom of the screen to turn on / off and two more to go forward and back in the pages.
The brightness and sharpness of the 212-pixel-per-inch screen provide reading on par with Kindle readers. With 8 GB of internal storage it is more than enough for hundreds of books. But in any case, it has seemed very successful to us that due to the greater weight of the PDF format, the manufacturer has given the opportunity to expand the storage via microSD up to 32 GB.
The 1,300 mAh battery allows an autonomy of approximately one month . Of course, for this price and the features it already offers, it is not surprising that the connection is via cable and Wi-Fi, regardless of Bluetooth connectivity.
It's also not waterproof nor does it have audiobook support. But we think that for 119 $, we couldn't ask for much more.
Excellent display with adequate sharpness, resolution and brightness for all types of lighting conditions.
Control by buttons very comfortable and intuitive.
Expandable memory via micro SD up to 32 GB.
One month autonomy.
Includes a pre-installed bilingual dictionary.
The Send-to-Pocketbook and Connect to Dropbox features have not worked for us, and we have seen other users have issues with support for both services.
6. iPad Mini: The best alternative to an e-reader
The iOS operating system also provides enough versatility to emulate a good book reader, both in terms of fluency and in the wide variety of alternatives to download ebooks.
Therefore, if you want a book reader, but you don't want to miss out on the opportunity to have a device on which you can watch movies, play games, design and get the most out of productivity , we definitely advise you to bet on the iPad Mini.
Contrasts, colors and brightness suitable for interior and exterior.
Sharpness and screen technology that can rival e-ink screens.
Autonomy of between 8 and 10 hours (for reading only more than two days)
It does not allow to expand the storage via microSD.
Does not include FaceID functionality.
7. Huawei MediaPad T5: The best Android tablet for reading books
Another excellent alternative to an electronic book, this time coming from the Android operating system, is the Huawei MediaPad T5. It is a device with a 10.1-inch screen with Full HD resolution that provides a clear image and a good level of brightness, which does not fade in sunlight .
In terms of hardware, it has a Qualcomm Octa-core processor and 4 GB of RAM that allow smooth operation even when running heavy applications and games.
Adequate brightness, sharpness and contrast.
Very smooth operation.
64 GB of storage (256 GB via microSD)
You have access to the Google Play Store.
Battery that offers between 6 and 8 hours of autonomy.
The speakers lack surround sound.
Summing up: Should you buy an ereader or a tablet to read
Buying a tablet to read or a tablet you can read on depends on your needs. If you are truly passionate about letters, we definitely recommend investing in an ereader , which in the long run, your eyesight will thank you for.
Now, if you are looking for a device to read books occasionally, but that is more versatile and allows greater productivity, one of the tablets that we mentioned at the end may be a better alternative .