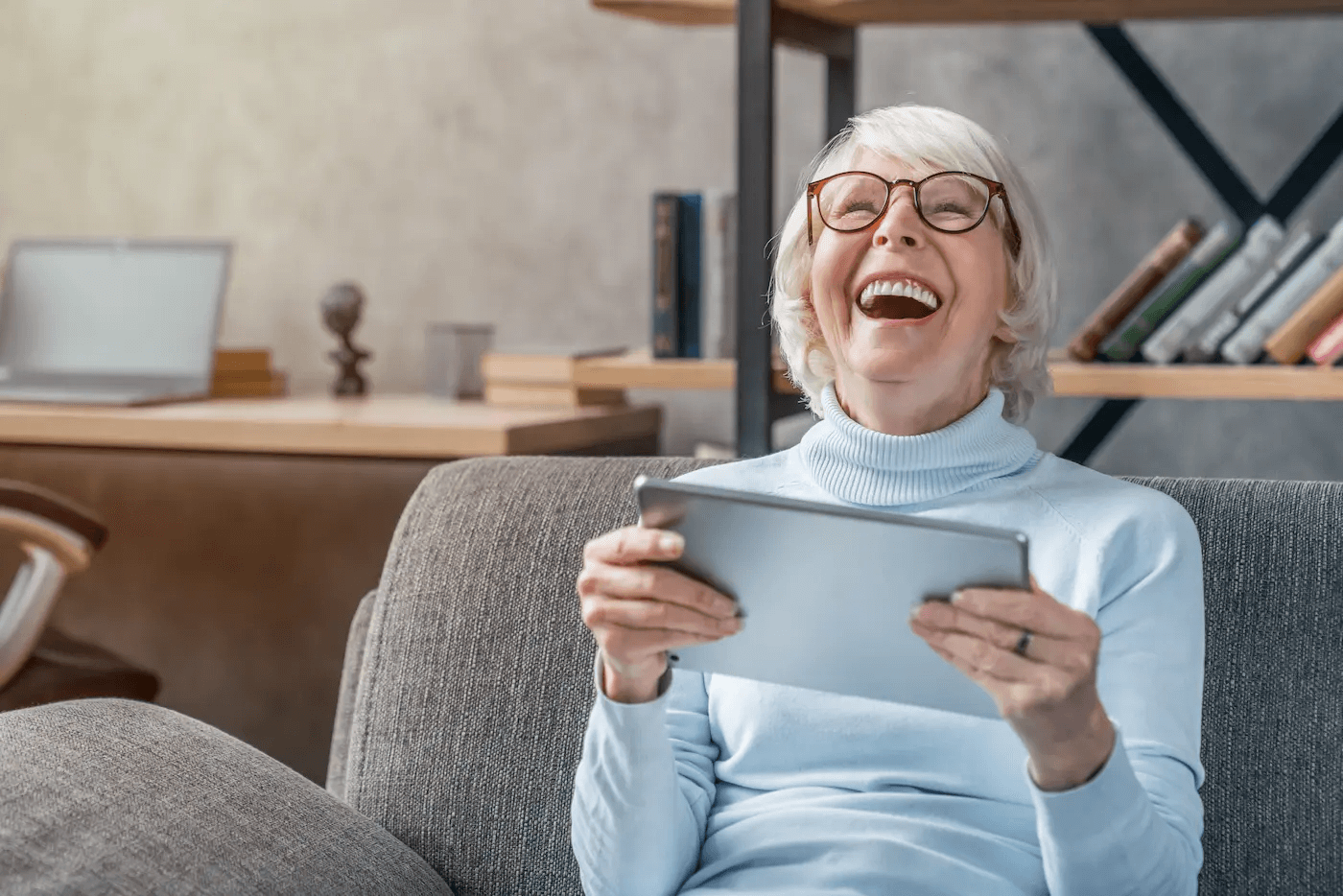 October 21, 2022

tech combact

0
Some issues regarding digital devices that frustrate our elders and us digital natives despair are clear evidence that the features to consider when looking for a tablet for the elderly are more than many imagine.
Therefore, if you are considering buying the Best tablet for seniors, stay and discover some options that seemed to us the most suitable, and why you should value them for the elderly.
What are the best tablets for seniors in 2022?
Taking all these features into account, we have selected 4 tablet models that we think meet them, and at an excellent value for money:
Top 4 recommended tablets for the elderly
Let's see then, what are the specifications of each of the models that we mention:
Samsung Tab A 7 – Great value for money Samsung tablet
Huawei MediaPad T5– The option with the best performance
Lenovo Tab M10 Plus– The basic tablet with better autonomy
JUSYEA J5– The basic tablet with extra accessories
1. Great value for money Samsung tablet
Samsung Tab A 7
Features
Brand: SAMSUNG
Series: A7 Tablet 10.4 Wi-Fi
Memory Storage Capacity: 32 GB
Screen Size: 10.4 Inches
Display Resolution Maximum: 2000 x 1200 Pixels
One of Samsung's cheapest tablets is the Galaxy Tab A model. Although it has relatively simple features, it has very smooth performance and LTE connectivity.
The appearance of the device, despite being entry-level, is very careful and we will see a metallic finish and two stereo quality speakers.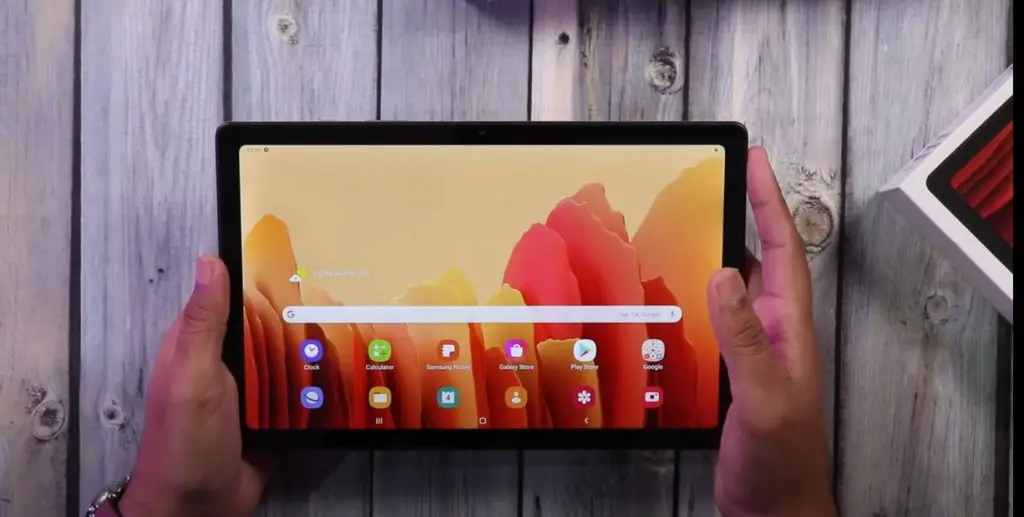 10.1-inch screen with excellent sharpness, colours and brightness.
Outdoor mode, to increase brightness under sunlight.
Eight-core processor with excellent performance for the range in which it is found.
Enough storage to install apps and save content offline.
Autonomy of 10 hours of continuous use.
Stereo speakers with Dolby Atmos technology.
It does not have specific software to configure the audiovisual part.
The layout of the speakers can cause the sound to be affected.
2. The option with the best performance
Huawei MediaPad T5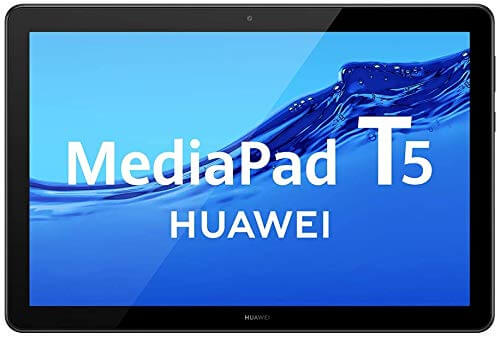 Features
Brand: HUAWEI
Series: MediaPad
Memory Storage Capacity: 64 GB
Screen Size: 10.1 Inches
Display Resolution Maximum: 1920 x 1200
Another basic tablet, but one that offers excellent performance and features for its price, is the Huawei MediaPad T5. It has a metallic finish, a 10.1-inch screen with Full HD resolution, an octa-core processor and 32 GB of RAM.
The sound quality provided by the 2 speakers is very good, so there is no need to put on headphones, something that our elderly will appreciate. The Kirin 659 octa-core processor in conjunction with 3 GB of RAM offers good performance for almost all daily tasks.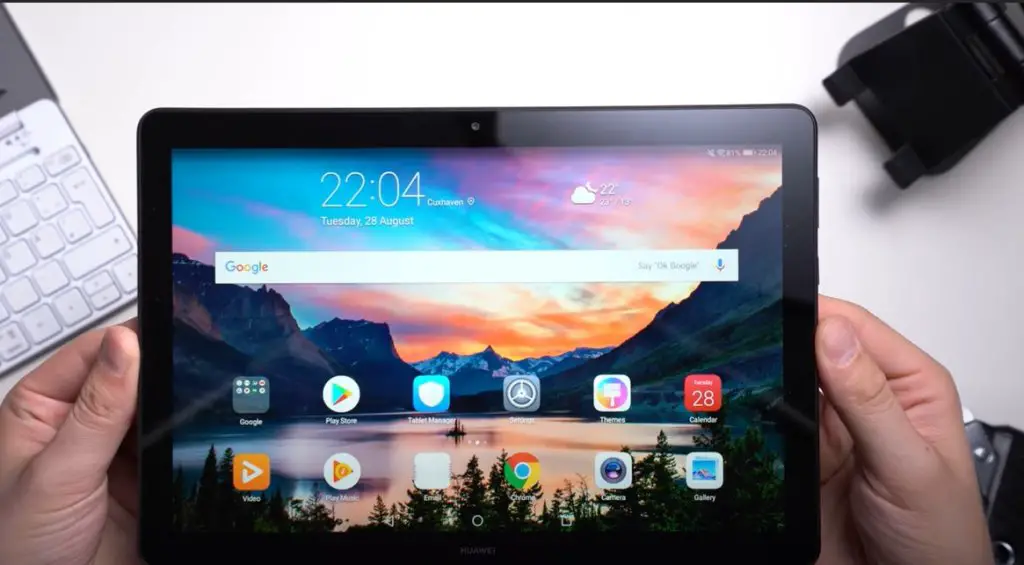 Good screen size and quality.
Solvent processor for most applications.
Speaker quality is suitable for multimedia consumption.
metallic finish
Poor quality cameras.
The Android version is outdated.
You may also like: Best Tablet Keyboards
3. The basic tablet with better autonomy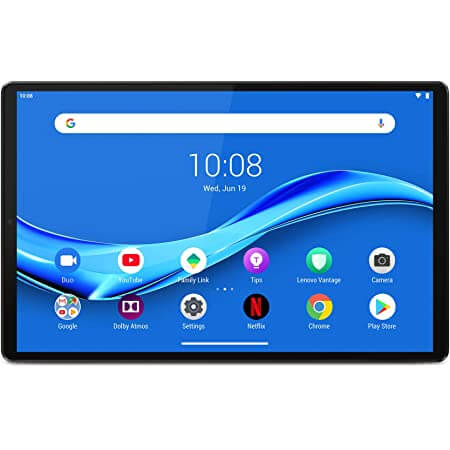 Features
Brand: Lenovo
Series: ZA5T0206US
Memory Storage Capacity: 128 GB
Screen Size: 10.3 Inches
Operating System: Android 9 Pie
At just over 150 $, you will find this excellent Lenovo tablet, which has very good features such as a 10.3-inch screen with Full HD resolution, an octa-core processor, 4 GB of RAM and 64 GB of internal storage, expandable up to 512 GB per microSD.
The two stereo speakers sound good, and the battery lasts about 9 hours. The only really worrying drawback is that this tablet does not have a Widevine L1 certificate, which means that the content we want to see on Netflix and Amazon Prime will not be seen in HD resolution.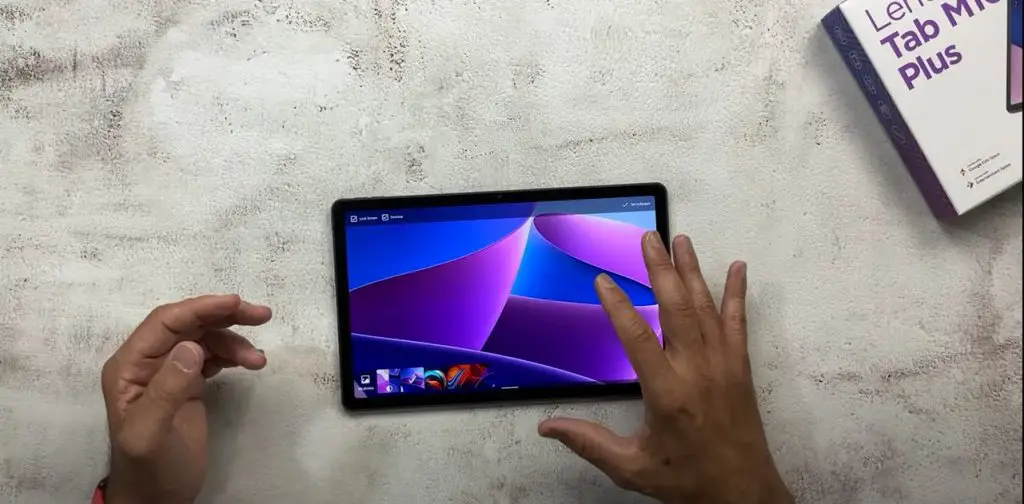 Larger than average screen size and very good image quality.
Solvent hardware for everyday applications and medium-demand games.
Good autonomy, enough for 10 hours of intensive use, and up to 30 days in suspension.
Large storage capacity.
Outdated software version.
It is not Widevine L1 certified.
You may also like: Best Tablet Pencil
4. The basic tablet with extra accessories
JUSYEA J5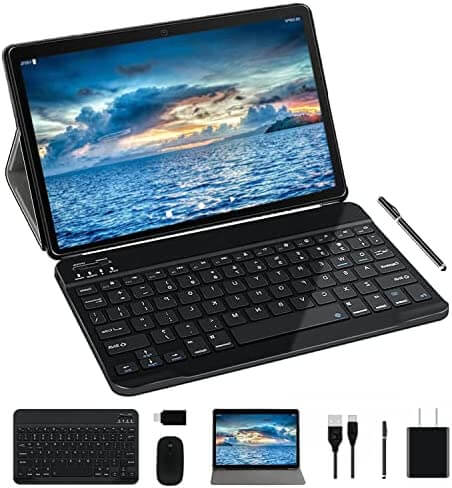 Features
Brand: JUSYEA
Series: J5-W
Memory Storage Capacity: 4 GB
Screen Size: 10.1 Inches
Display Resolution Maximum: 1280 x 800 Pixels
The JUSYEA J5 tablet is another excellent economical alternative, with reliable features for use by the elderly. In addition, it includes accessories such as a keyboard and mouse, so that it is more similar to the experience of a computer, especially for typing and selecting.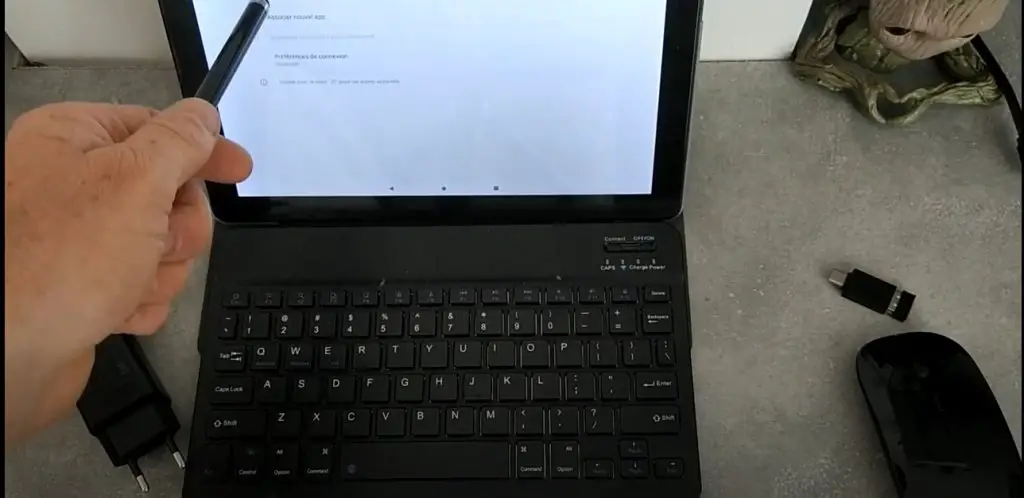 10-inch screen with Full HD resolution.
Includes several accessories with your purchase.
It has a good storage capacity.
Quite up-to-date operating system.
Excellent price/storage ratio.
The 4 GB of RAM allows you to keep several apps open.
Wi-Fi only reaches 2.4 GHz.
The cameras are pretty basic in resolution.
You may also like: Best Tablet To Work
What features should a tablet for the elderly have?
When it comes to technology products for children and the elderly, many buyers tend to think that a product with very basic specifications is the best option. However, when certain features are skimped on for price, our seniors often end up getting frustrated when the device doesn't respond to their touch or too much to upload a video to the Internet.
Nowadays, the market offers a good number of tablets at very affordable prices, and with excellent features. Of these, the most important for an older person is usually:
Good device size
Due to decreased vision, older adults find it more difficult to see small menus and icons, so it is advisable to give them a tablet with adequate screen size:
It is best to start looking at 10 inches, which is a size large enough that you do not have to strain your eyes, and it is still quite portable.
enough storage space
Most of the elderly have difficulties in determining when they do not have enough storage space to store or download information, much less when for this reason the system limits the actions that the user can perform.
Furthermore, since many do not adapt to uninstall applications even if they do not use them, it is better if they have a good amount of storage: more than 32 GB if possible.
Solvent processor and RAM
A quad or eight-core processor, accompanied by more than 3 GB of RAM is a good configuration to ensure that the tablet does not have frequent lags, nor is it slow to respond to the gestures of our elders.
4G LTE connectivity
A tablet with good performance and suitable screen size will be an excellent option to replace the smartphone if it has a SIM card slot. In this way, they will be able to use communication applications such as WhatsApp without having to carry out complex procedures.
How to configure tablet for the elderly?
Now that you have an idea of ​​what requirements the most suitable tablets for older people should have, here are some additional tips to minimize the problems that older people may have when using them:
Application settings
If your tablet has low storage, between 16GB and 32GB, but has a micro SD card slot, choose to pass app data and set downloads to be stored on the micro SD card.
To move apps to the microSD card:
Go to Settings/Applications/.
Select the apps you want to move to the card.
Click on " Storage " and then on " Change " when you see the option of " Internal Storage " selected.
After clicking " Change ", select " SD Card ".
This will transfer the data of the selected applications to the microSD. It is important that you know that this action cannot be performed on devices with versions prior to Android 6 .
To store downloads on the microSD:
Download and install the ES File Explorer app.
Go to the icon of the three horizontal lines in the upper left.
Select " Settings/Directory settings/Download path ".
Set the new path, which will be to the microSD.
games for seniors' tablet
Lastly, if your elders don't get along very well with apps like the Google Play Store, you can download tablet applications for the elderly that allow them to train their memory and have fun at the same time:
Chess/ Domino :
Board games are a classic that all older people appreciate having on hand.
Bejeweled/ Zuma/ Candy Crush :
We still don't know an old lady who doesn't enjoy logic games, reminiscent of the classic tetris.
Other resources that may interest you
Currently, technology for the elderly is a booming sector due to the rapid aging of the world's population. For this reason, it is only a matter of searching and you will find all kinds of resources and advances available to enrich the lives and environment of the elderly.
From Techcombact we wanted to leave you with some suggestions that you may not have known:
Tablet driving course for the elderly
It is more than clear that not all young people have the patience or the methodology to teach our elders, with practical examples, how to use a tablet or smartphone correctly.
But for this, there are numerous online and face-to-face courses, which allow seniors to learn about all the benefits of using a tablet, as well as the correct management of social networks, online purchases, connectivity alternatives, etc..
In the month of November, an online course will be held on the Capacitarte platform, called the Cell Phone and Tablet Handling Course for Older Adults.
And that's it! We hope, then, that if you are thinking of giving a tablet to your parents or grandparents, you have found the necessary information among our recommendations.