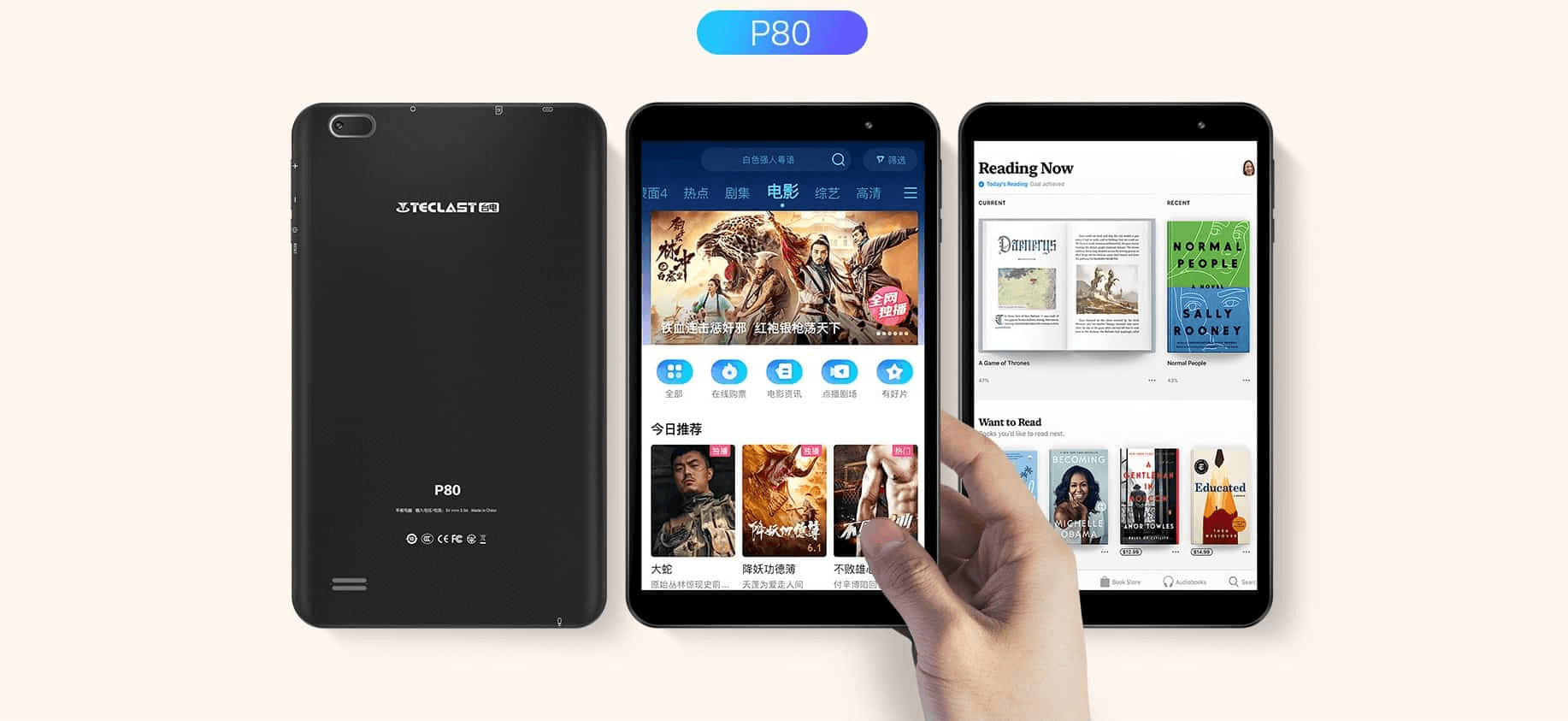 November 19, 2022

tech combact

0
The 8-inch tablet segment seems to have fallen into oblivion given a large number of 10-inch options, in a highly competitive price range. However, Teclast: one of the manufacturers that we have frequently approached on our website, seems to perceive a great opportunity in these screen dimensions.
A clear example is its Teclast P80X tablet, a tablet with very interesting features for its price. We have tested this tablet for 3 months and we bring you our analysis of all its pros and cons, to help you decide if it is the right option for your budget.
Teclast P80X: User opinions
Next, we leave you some of the opinions that we have found about the tablet in question:
"This tablet, the Teclast P80X, seemed very suitable to me, especially for its 4G LTE, Wi-fi 5.0 and Bluetooth 4.1 connectivity. It came perfect. I don't mind the 2GB of RAM and 16GB of storage, as it had a 64GB microSD that I was able to put in it with no problem. In my opinion, the value for money is unbeatable"
"I needed a simple tablet, for office use and social networks, and because of its price I decided on this Teclast P80X. The 8-inch screen dimensions are not a problem for me, as it seems very portable. However, they could have A little more work has been done on the quality of the screen, however, for the price I couldn't ask for more: 2 GB RAM and 32 GB of storage, they are good features and the tablet performs well Between the tablet and the shipping costs were not even 90 $, so I'm happy with the purchase."
"What I was looking for was a tablet that would help me read digital books, so the size and the simple specifications convinced me. Also, it never hurts to have a tablet that I can take everywhere to watch an episode of my favorite series. For those purposes it is very good, because it also has vision protection technology, the Eye Comfort, to read without tiring the eye. Anyway, my only downside is that they could have upgraded the micro USB to USB type C, but nothing more for comfort"
Our opinion on the Teclast P80X
Once the evaluations that the buyers have had are known, it is time to give you our professional opinion about the Teclast P80X tablet:
Design and materials
The Teclast P80X has dimensions of 20.5 cm x 12.1 cm x 0.58 cm, and weighs 400 grams. Light and quite a thin tablet, to which its plastic finish also contributes.
As it is a basic model, it is logical that it saves on construction materials, and we must point out that it has been dropped on the ground during the tests and has not had any bruises, so it is quite resistant.
Of course, plastic is not a material that dissipates heat well, so in the CPU tests, we have noticed that this area overheats quite a bit.
The screen frames are thin, and we have a 72% usable area.
Screen and resolution
The 8 inches of the Teclast P80X are not a big drawback for those looking for a tablet of such dimensions. On the positive side, we have an IPS screen with a good viewing angle and a resolution of 1280 x 800 pixels with 189 ppi.
8″ screen with HD+ resolution
This density of pixels per inch is not very high, so although the colours and contrast are quite good, the video fades, especially when we play streaming content, in which pixilation becomes very evident.
In the cameras section, we have a rear camera with a resolution of 2 MPx and a front camera of 0.3 MPx. We can't say that it's a good camera, not even by 8-inch tablet standards, but for the price, we personally agree.
speakers and sound
The audio system of the Teclast P80X is quite poor: we have a single speaker in the back, which offers basic sound quality.
Stereo sound only with the audio jack
However, once we connect the headphones to the audio jack, the audio quality becomes good, without being completely three-dimensional.
Hardware
The performance of the Teclast P80X tablet has seemed fair for its cost, so it has not really disappointed us. Let's take a closer look at its features:
A better than average Unisoc SC9863A CPU
The octa-core processor has 4 Cortex A55 cores at 1.6 GHz and 4 Cortex A55 cores at 1.2 GHz. For better graphics performance, it has a PowerVR GE8322 GPU that supports the playback of multimedia content, videos and basic applications.
Discreet but sufficient RAM memory
The RAM of the Teclast P80X is not bad for its price, but really the 2 GB is below the standards currently used by manufacturers. However, for a tablet that is in the entry range, we will hardly give it use that exceeds the capacity of its CPU and RAM memory.
Storage
All-edge view showing the microSD slot
This tablet comes in two options, with 16 GB and 32 GB capacity, both with microSD memory expansion up to 64 GB.
In the case of the 16 GB, which is the one we bought, we have a total of 9 GB free, so the 64 GB of expansion is more than necessary to install all the apps we want, as well as to have more offline content.
Operating system
As for the software, we have the Android 9.0 Pie version, without the possibility of updating to Android 10, which is evident from its basic features at the hardware level.
Connectivity
Although this tablet is discreet in many aspects, in terms of connectivity it is on a par with much more expensive competitors. With 4G LTE connection through a SIM card, Bluetooth 4.1, GPS geolocation system and A-GPS.
REMEMBER: The P80 model, which is the one for sale in Spain, does not have 4G connectivity, which is reflected in the price.
WiFi B/G/N and high-speed AC
As for Wi-Fi, we have the b/g/n standards, which work on the 2.4 GHz band, while the AC standard supports high-speed WiFi at 5.0 GHz.
Battery and autonomy
To conclude, we have a 4,500 mAh battery, which for the size of the 8-inch screen is a good amperage. Although it takes 3 hours to fully charge, it will give between 2 and 3 days of autonomy with regular use.
Final Evaluation on the Teclast tablet PC P80X
So, after seeing all the features of the Teclast P80X in great detail, is it worth buying this tablet given its specifications? Who is the ideal product for?
Once the evaluations that the buyers have had are known, it is time to give you our professional opinion about the Teclast P80X tablet.