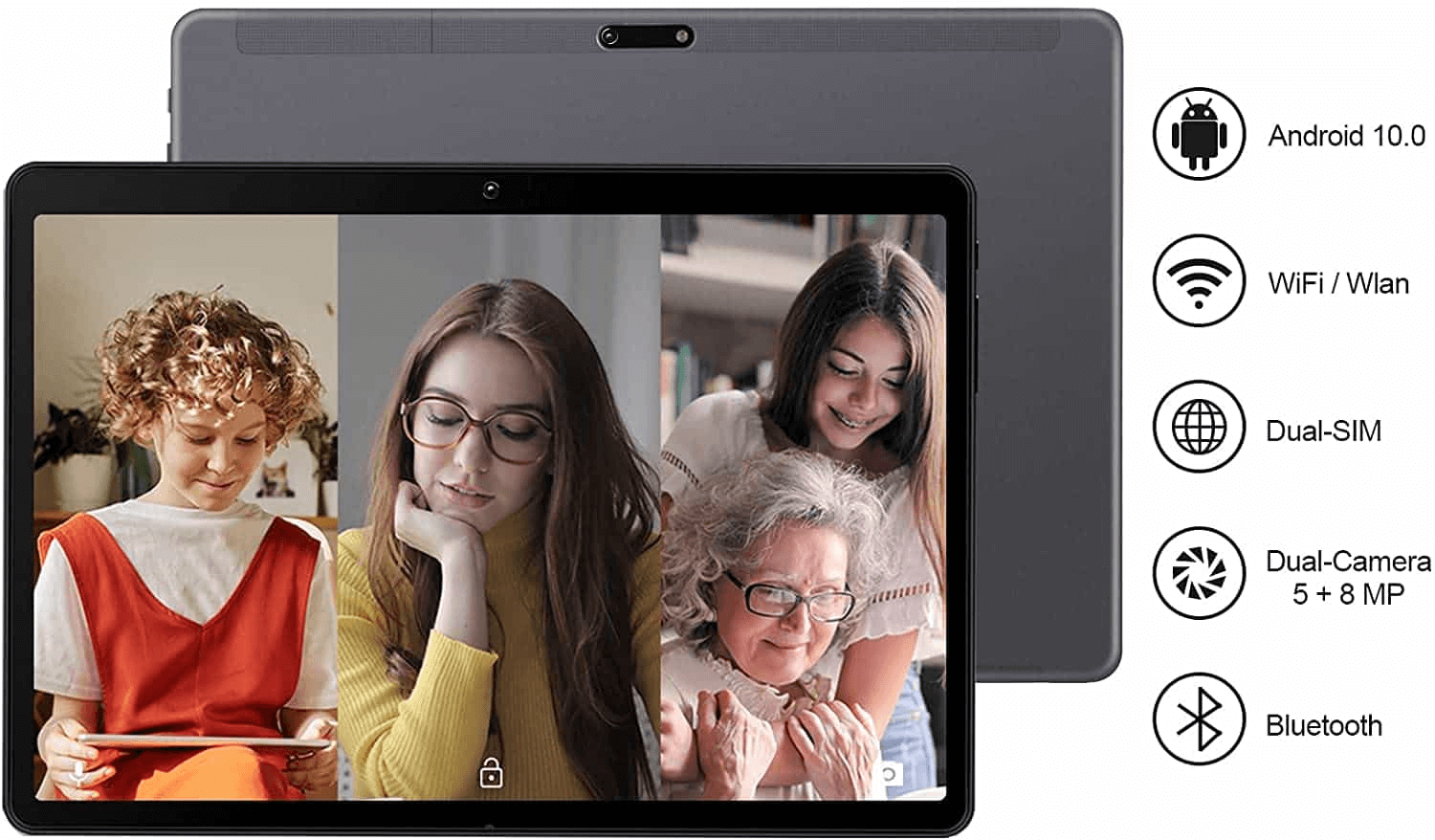 November 19, 2022

tech combact

0
The GOODTEL 10-inch tablet is one of the first options that appear in browsers when you search for "cheap tablets". And the truth is that we were surprised not only to see that it costs just over $100, but also the many positive reviews we found.
Usually tablets like the one we are dealing with are considered an "entry range" or economic product. The problem is that more than half of the devices in this range that are launched annually do not meet the appropriate quality standards even for that segment.
So we were very curious to know if the Goodtel G2 and G3 , which are the most commercialized models and therefore the most popular in Spain and the rest of Europe, really meet these standards.
We have dedicated this review to the opinions about the GOODTEL tablet in its G2 and G3 models , as well as our analysis of its features and performance.
Summary:
The only difference between the two models is that the G3 has the addition of 2 SIM cards and includes a mouse. Both models have very good features for their affordable price.
By entry-level standards, both the GOODTEL G2 and G3 feel solid and consistent, both physically and functionally . Above all, if you limit its use to leisure, navigation and less demanding tasks, which is what it is specially designed for.
Our review of the GOODTEL G2 and G3 tablet
CLARIFICATION:Both the G2 and the G3 are practically the same in terms of technical characteristics.
As you have noticed, the tablet is perceived in a very positive way. But now we give you our opinion after using it and also based on its specifications:
Accessories included with the Goodtel G2: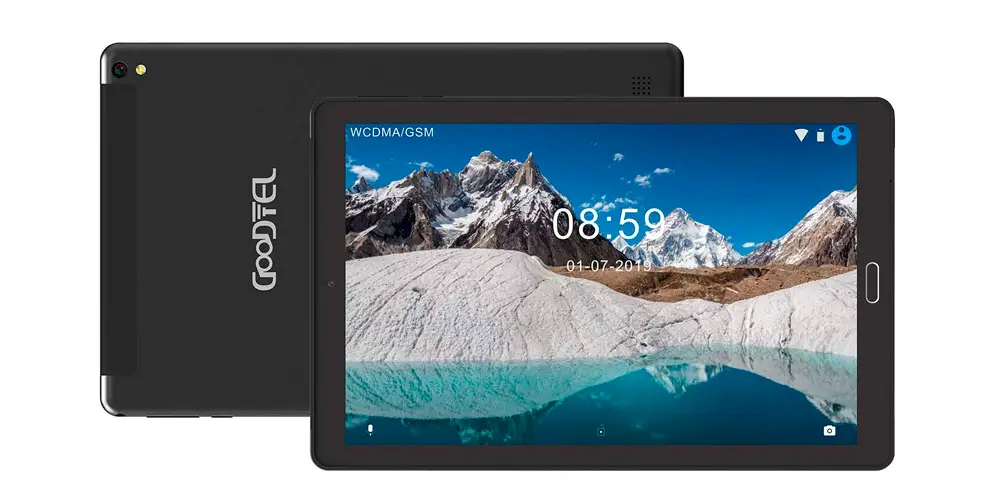 One of the things that we like the most about this tablet that for the price makes it a real "bargain" :
bluetooth keyboard
compatible case
capacitive pen for touch screen
protective film
Charger
Headphones
Accessories included with the Goodtel G3: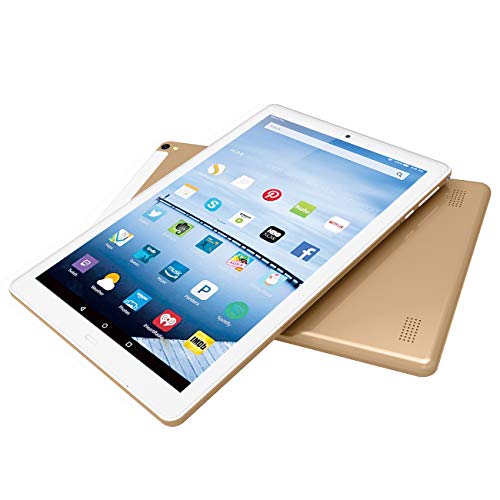 bluetooth keyboard
compatible leather case
capacitive pen for touch screen
Mouse
3.5mm audio headphones
Charger
OTG cable
dust proof cloth
Charging cable with Type C connector
Design and materials
First hand, we have a tablet with a simple design, without great pretensions and with a plastic and metal finish: a more than logical decision considering the price of the device.
On the back we see the dual speakers , and we will find the charging and OTG port on the top edge, and we can only access the SIM and micro SD card slot under a cover that can be easily removed.
On the right the power buttons, the 3.5 mm jack, volume and reset. Aesthetically it is pleasing to us, since it reminds us of other devices such as Samsung (it includes a Start button that leads to the Home menu).
On the front, the screen is, according to the manufacturer, made of tempered glass : this should provide it with greater resistance to shocks. Still, we recommend using a silicone case that is resistant to drops and shocks if you buy it for your young children.
Screen
Starting to talk about the screen, this is 10 inches : an average size for the price range, with an IPS panel that provides a good level of color and contrast .
The resolution is HD (1280 X 800 pixels) , which is enough to enjoy movies and series, but it does not exhibit stunning quality and sharpness.
Speakers
As we mentioned above, the GOODTEL G2 has two speakers, located on the back of the tablet.
They offer a "fair" sound quality, without much bass or nuances , but we can solve this by using headphones.
Hardware: 4GB Ram 64GB Rom
In the hardware section, we will find a MediaTek 8121 quad-core processor at 1.6 GHz , in combination with 4 GB of RAM , to navigate, watch movies and other simple tasks smoothly.
It incorporates 64 GB of storage , which is more than enough for apps and information, and can be expanded up to an extra 128 GB .
Operating system
Android 10.0 free of bloatware . According to the manufacturer, it is a Pro version, although at the level of user experience it does not report any difference with the Android 10 of a lifetime. In short, we assume it is a marketing strategy.
Connectivity
The GOODTEL G2 has a very positive point that many users will value, and that is that it has capacity for 2 SIM cards . So it can be connected to the 4G network.
Dual 5MP + 8MP cameras
The cameras are very basic, enough for occasional use of video calls and that type of purpose. We have 8 MPx in the rear sensor and 5 MPx in the front .
Drums
The battery is one of the most remarkable features of this tablet: With its 8,000 mAh lithium battery, it is more than enough for 8 hours of continuous video . Hence, in an average use, you have between 2 and 3 days of autonomy.
User reviews about the Goodtel tablet
Before telling you what we thought of it at the user experience level, we want to share with you some of the most outstanding opinions that we found on the Amazon website about this device:
"The number of accessories it comes with is incredible, because for me they are ideal to turn it into a mini computer when you need it. So after looking at the specs and reviews a bit, I made up my mind. I can only say that I am more than satisfied because the specifications are very consistent with the price, it works very fast and well."
"All very well. It seems to me that the performance-price ratio in the case of this tablet is unbeatable in many ways such as the screen, autonomy and performance, at the price for which you could not ask for more."
"I bought this tablet based on the buyer reviews I read, and it's true what they said. It was sent to me and it works perfectly. We watch movies and my wife plays with some complicated graphics app."
"I really couldn't be happier: with the use I give it, of social networks, some other simple game and navigation, it performs very well. On top of that, it comes with its case and keyboard, these details make me love this tablet."
"Regarding the technical characteristics, it should be noted that it runs very smoothly with medium use. It is not a top tablet with great excesses at the processor level and what I would highlight the most is the complete set of accessories that it comes with."
Last conclusions
As you can see, it is a tablet with expected features for such an affordable price. Hence, our final assessment is:
We recommend that if you can afford the extra $15 you should go for the Goodtel G3.