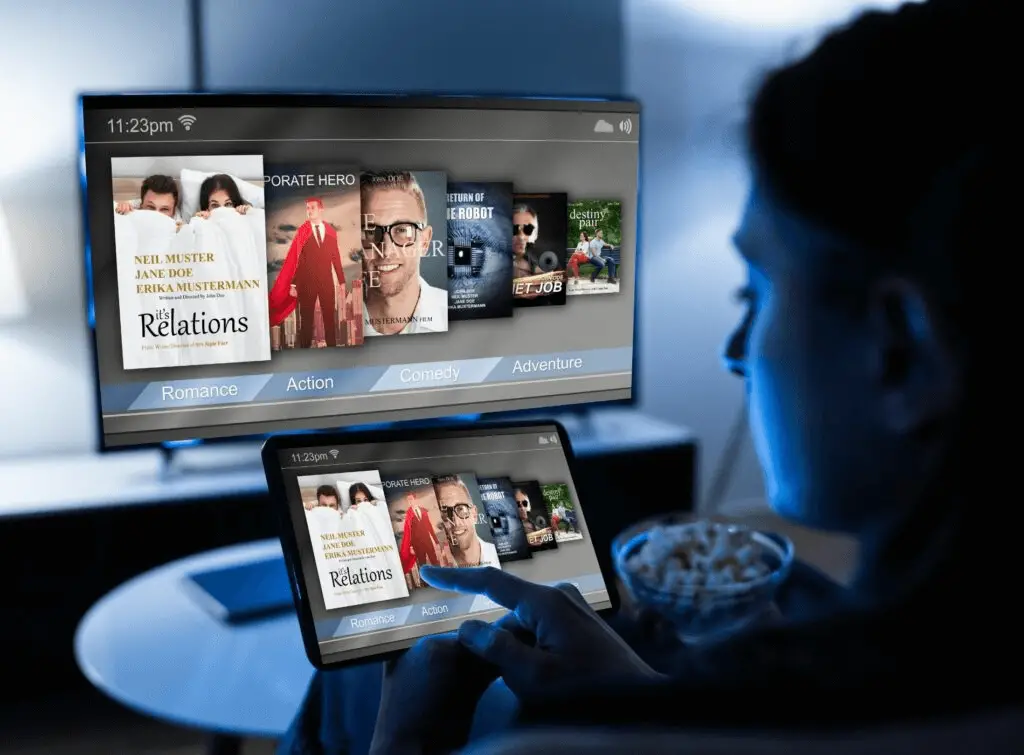 November 19, 2022

tech combact

0
Today, in their quest to become a substitute for laptops, tablets incorporate more and more connectivity options. Therefore, it is not unusual to find more than one tablet with an HDMI output.
The curious thing is that, although it might seem that the inclusion of this port could make a tablet significantly more expensive, while we investigated and selected the models to test for this post, we realized that in reality, it is possible to find options for just over 100$.
And as prices go up, offerings are becoming more like tablet-laptop hybrids rather than actual tablets. Anyway, if you want to know more about HDMI connectivity on tablets, and what are the options we have opted for, we invite you to learn about them in this post.
What is HDMI port and what is it for?
The HDMI port refers to the term High Definition Multimedia Interface, a connectivity technology that allows both high-quality audio and video to be transmitted from one device to another through a single cable.
It is a way to link, for example, a computer, smartphone or tablet with your TV, in order to enjoy multimedia content on a larger screen. The only limitation of this connection is the length of the cable used for it, but with extension cords currently existing, this barrier is inconsequential.
What is HDMI on a tablet?
When we talk about tablet with HDMI, we are referring to what users commonly refer to as a tablet with HDMI input or with HDMI output, although the terms are not actually used interchangeably:
| HDMI Type | Description | Devices |
| --- | --- | --- |
| Type A | Standard size HDMI connector | TV, PC, Blu-Ray Player |
| Type B | Dual-link connector with additional pins for high resolution | Professional equipment |
| Type C | Mini-HDMI connector with 19 pins | Cameras, Tablets, Laptops |
| Type D | Micro-HDMI connector with 19 pins | Smartphones, Thin Tablets |
A device with an HDMI input is almost always a digital television or home theatre receiver. This input is the one that accepts the end of an HDMI cable, which will usually be connected on the other side to the HDMI output of devices such as consoles, Blu-Ray players, computers, tablets and smartphones.
On the other hand, as you may already guess, devices with HDMI output are those that feed video and audio signals, among which are our tablets. Of course, there are several types of HDMI: type A, type B, type C and type D.
Of all these, it is the type C and D that can be found in tablets and are called mini or micro HDMI.
What is a mini HDMI?
A tablet with micro HDMI can have one of these two ports:
The type C has 19 pins and is a mini version of the HDMI type A connector, designed for devices such as cameras, tablets and laptops.
While the HDMI type D is the micro version of the type A connector and is also used in compact equipment such as smartphones and very thin tablets.
What uses can be given to a tablet with HDMI?
Because the HDMI connection allows us to transmit both image and sound through a cable, it is very convenient and simple in the following contexts:
| Use Case | Description |
| --- | --- |
| Classes and Presentations | Show slides and presentations in class or work, no configuration needed, immediate connection, direct high-quality image and sound |
| Movie at Home | Connect to projector or TV for streaming content or watch movies and series in high definition |
| Artistic Work | Connect tablet to projector to project images on large surfaces such as canvases or cardboard, very valuable resource for artists who trace the lines and volumes of their work |
| Play Music at a Party | Connect tablet to TV and speakers to play music videos directly |
Classes for all levels and presentations
If you have a tablet with HDMI, you only have to connect it to a TV or a projector to show your slides and presentations in class.
Beyond the school context, you can also make your presentations at work, managing with the comfort of your finger how the slides scroll or selecting the different images you want to show.
The great advantage in these contexts is that the connection is immediate, it does not require configuration as would happen with wireless methods, and the quality of the image/sound will always be higher since the connectivity is direct.
Movie at home
If you have a projector at home, a tablet with HDMI is a simple and immediate way to access your multimedia content without using specific applications or limiting access to certain apps. To enjoy streaming content or movies and series that are worth watching in high definition, it is a very good alternative.
A projector can also be used to project images on large surfaces such as canvases or cardboard, and this is a very valuable resource for artists who trace the lines and volumes of their work. If the artist works with a tablet to download and edit images, they can benefit from HDMI connectivity for added convenience.
Play music at a party
Although at certain times it is best to connect the device on which you will search for music for your party, directly to a speaker, you can also connect the tablet to your TV and speakers to play music videos directly.
What are the tablets with HDMI output in 2023?
After learning the fundamentals of HDMI connectivity, we invite you to explore 3 of the most popular HDMI-enabled tablet models on the market:
1. Dragon Touch NotePad K10: The best cheap HDMI tablet
The first tablet with HDMI that we have brought is from a lesser-known brand among Chinese manufacturers, and we have acquired it at a discount of 110 $. This is the Dragon Touch NotePad K10 model, whose construction combines metal and plastic materials: the casing is metal, while the edges and 10.1-inch screen are plastic.
The resolution of the latter is 1280 x 800 pixels, which is a little more than the basic HD resolution of 720 pixels, but it's not Full HD either. This is evidenced by the pixel density per inch, which is 160 ppi, meaning text and graphics look good, if slightly fuzzy.
Brightness and saturation are good, so we found the media viewing experience adequate. But reading in navigation or for ebooks becomes a bit more annoying in the long run.
As for the internal specifications, we have a quad-core ARM Cortex A53 processor at 64 bits, and a maximum speed of 1.3 GHz, an ARM Mali T720 graphics coprocessor and 2 GB of RAM, which provide good performance for content consumption, basic tasks and multitasking, but they are not fluid to play video games, especially those with a high graphic level.
The internal storage is 32 GB, which is not too much if we want to install many apps and save content, but luckily it can be expanded up to 128 GB.
Suitable for basic tasks and multimedia consumption.
It has Google services.
Micro HDMI connectivity, Bluetooth 4, Wi-Fi at 2.4 G and 5 G.
5,000 mAh battery that provides an average of 6 hours.
The charging port is a micro USB.
Android 9.0 is not upgradable.
Quite a low sound and nothing remarkable.
Fair screen resolution, but to be expected for the price.
Very basic 8 MP and 5 MP cameras.
2. Simbans TangoTab: Best with HDMI and USB Type-A
The Simbans is a 10.1-inch tablet whose greatest virtue is the large number of ports it includes in addition to the mini HDMI: We have a DC port for charging, a USB type A, an audio jack port and a micro SD card slot.
The finish is completely plastic like the screen, this construction is lighter but the screen is more prone to scratches. Due to this propensity, the manufacturer decided to fix it with an extra screen protector, and by providing a body-like plastic liner: while this protects the tablet well, it makes it a bit uncomfortable to hold.
The panel has a resolution of 1280 x 800 pixels (HD), but the colours are bright. The tablet has 2 small speakers, which provide average and somewhat poor sound, but that is to be expected in this price range.
Inside, the TangoTab features a MediaTek quad-core processor, 4GB of RAM, and 64GB of storage. Its performance is basic: suitable for streaming, multimedia playback and casual games, but in more complicated tasks it suffers.
We have also been able to appreciate delays in the response time of different actions: From the power button, which takes a couple of seconds to turn on the screen after being pressed a couple of times, to opening applications. Always answer, but calmly.
In terms of connectivity we have Wi-Fi at 2.4 GHz and 5 GHz, Bluetooth, GPS and the rest we have already said, standing out for being a tablet with USB and HDMI. The operating system is Android 10, free of bloatware and offer a good user experience.
Many port connectivity options.
Good storage capacity.
The battery provides about 7 hours of autonomy.
Dual Wi-Fi connectivity.
Low and low-quality sound
Very basic cameras.
plastic construction
Simply acceptable screen and sound quality.
3. CHUWI Hi10 X: The best hybrid tablet with an HDMI port
The CHUWI Hi10 X model is a hybrid between a tablet and a laptop, with a detachable magnetic keyboard and a premium finished metal chassis, which feels very solid and well built. Also included with purchase is a stylus, the HiPen, with over 4,000 pressure levels, making it suitable for drawing and note-taking on the tablet itself.
The 10-inch screen has a Full HD resolution with a density of 224 PPI, which provides adequate sharpness, brightness and contrast. This tablet with an HDMI connection also has several USB type-A ports, two type C ports and an audio jack.
The Celeron4120 CPU that this tablet brings is a basic processor, with an Intel UHD Graphics 600 coprocessor and 6 GB of RAM, which provide average performance but are not yet suitable for gaming.
As for the operating system, we will have Windows 10, but it is not a laptop, but a tablet with a computer operating system.
It includes two USB-A ports, two USB type C, one micro HDMI and one audio jack.
Very small design, making it a very economical convertible tablet.
Metal case and finish.
Magnetic detachable keyboard.
Dual WiFi and Bluetooth 5.0.
Larger frames than in the photo
Not very long-lasting battery
The performance is not that of a laptop.
The keyboard touchpad is very small.
Best tablets to connect to a USB-HDMI adapter
As you can see, most of the options that include an HDMI port are not the most powerful in relation to their price, except perhaps for the CHUWI tablet, but whose performance also leaves something to be desired.
Therefore, if you don't mind connecting a universal HDMI adapter like the one we are suggesting, which has both a micro USB and USB-C connection on the one hand, and an HDMI input on the other, you may be more attracted to the following options: a tablet with the best specs-price ratio:
Samsung's cheapest tablet at the moment is the Galaxy Tab A7, an entry-level device priced at just over 150 $. It has an unusual diagonal screen, 10.4 inches with a resolution of 2000×12000 pixels Full HD that provides excellent sharpness and contrast for the price.
Of course, in outdoor lighting conditions, the brightness is a bit insufficient, but we do not believe that this is significant if you are buying the tablet to connect it via HDMI on a regular basis. Regarding this detail, it has a USB type C port, to which you can connect the HDMI adapter that we told you about before.
In terms of specifications, we have an octa-core Snapdragon 662 processor that has given us a very smooth performance, in addition to being able to play the latest generation games, although with the graphics settings to a minimum.
The 3 GB of RAM allow a good multitasking capacity, and although 32 GB is a bit short for us to store content or install a good number of apps, it can be expanded up to 1 TB by microSD.
The audio experience is also commendable, as this entry-level tablet has 4 stereo speakers and Dolby Atmos technology, which gives us full-bodied and enveloping sound.
Light and slim design with a metallic finish.
10.4″ screen with Full HD resolution, good contrast, sharpness and colours.
Autonomy of 7 hours under constant use.
4 Dolby Atmos speakers.
Android 10 is upgradeable.
2. TECLAST P20 HD: The best value for money TECLAST tablet
This TECLAST tablet costs less than 160 $, but it is one of the best offers we have found in terms of value for money. It is a very light, thin tablet with a metallic finish, with two speakers and a USB-C connection.
The 10.1-inch screen has Full HD resolution and a contrasting colour gamut and brightness of 370 nits, suitable for indoor and intermediate natural light environments. The UNISOC SC9863A processor has eight Cortex A55 cores, which together with the IMG 8322 graphics coprocessor allow you to play 3D titles with an almost imperceptible frame jump.
On the other hand, the 4 GB of RAM comes in handy to carry out several processes at the same time, and the 64 GB, although it is expandable up to 128 GB via microSD card, seems to us to be a more than adequate built-in space.
Finally, note that the autonomy of the 6,000 mAh battery is good for a day of up to 8 hours of intensive use, and more if simple tasks are carried out.
Includes SIM slot and 4G LTE data connection.
Dual Wi-Fi, Bluetooth 5.0 and GPS.
Very good RAM-Storage ratio for the price.
Android 10 with gesture navigation.
Dual stereo speakers with very good sound.
Very basic medium-low resolution cameras.
Is it worth buying a tablet with built-in HDMI?
In our opinion, the feature of HDMI on a tablet is a plus in comfort, especially when immediacy in its use must prevail. However, today there are a good number of adapters that manage to supply this functionality.
Despite this, some people may find it cumbersome to use a USB to HDMI adapter, so they may prefer to purchase a tablet with these features.
If adapters are not a problem for you, perhaps we would recommend looking at more important and not so easily replaceable features such as:
Screen size
Adequate size of the screen can avoid the need to project the image on a larger screen, there are tablets with 11 and 12 inches, although of course these already have a higher price.
Coupled to the size must go the resolution of it. Although an 8-inch screen goes very well with HD resolution, a 10-inch screen with the same resolution is no longer as comfortable to read as a substitute for an e-reader, since pixels are more easily perceived when the image is enlarged.
USB-C port
The most important connectivity today is USB type C, which has come to displace micro USB, that a tablet has this connection ensures that we will not have to carry endless cables if we go on a trip and greater compatibility between devices and adapters.
Dual WiFi and Bluetooth 5.0
Wireless connectivity standards are also important, Wi-Fi at 5 GHz ensures a very fast data transfer speed, as well as Bluetooth 5.0. Although the latter stands out more in connectivity with accessories, when they are connected by that standard they save more battery on both sides.
Android or Windows Operating System
Android and Windows operating systems are also important to achieve compatibility between devices, and these, luckily, are among the most versatile. That is why opting for a tablet with these will give more possibilities to be able to connect in more ways with a device than only through HDMI.
Check out Android tablets with htmi output.
How to connect the tablet to a TV via USB?
When we have a tablet with HDMI, we only need a cable to establish the connection between it and the digital TV. Now, when we have a tablet without HDMI, we can do it through the micro USB or USB type C connector, depending on the case.
This will be possible using an HDMI adapter, which will serve as a bridge between the tablet and the end device. If you don't have an adapter, in this post we explain how to connect your tablet to a TV without HDMI, and in this one how to connect your tablet to a projector.
Also, if you are looking for the best video players to play content on or from your Android tablet, this article may interest you.
As per next reading, you may be interested in Tablets with hdmi input.