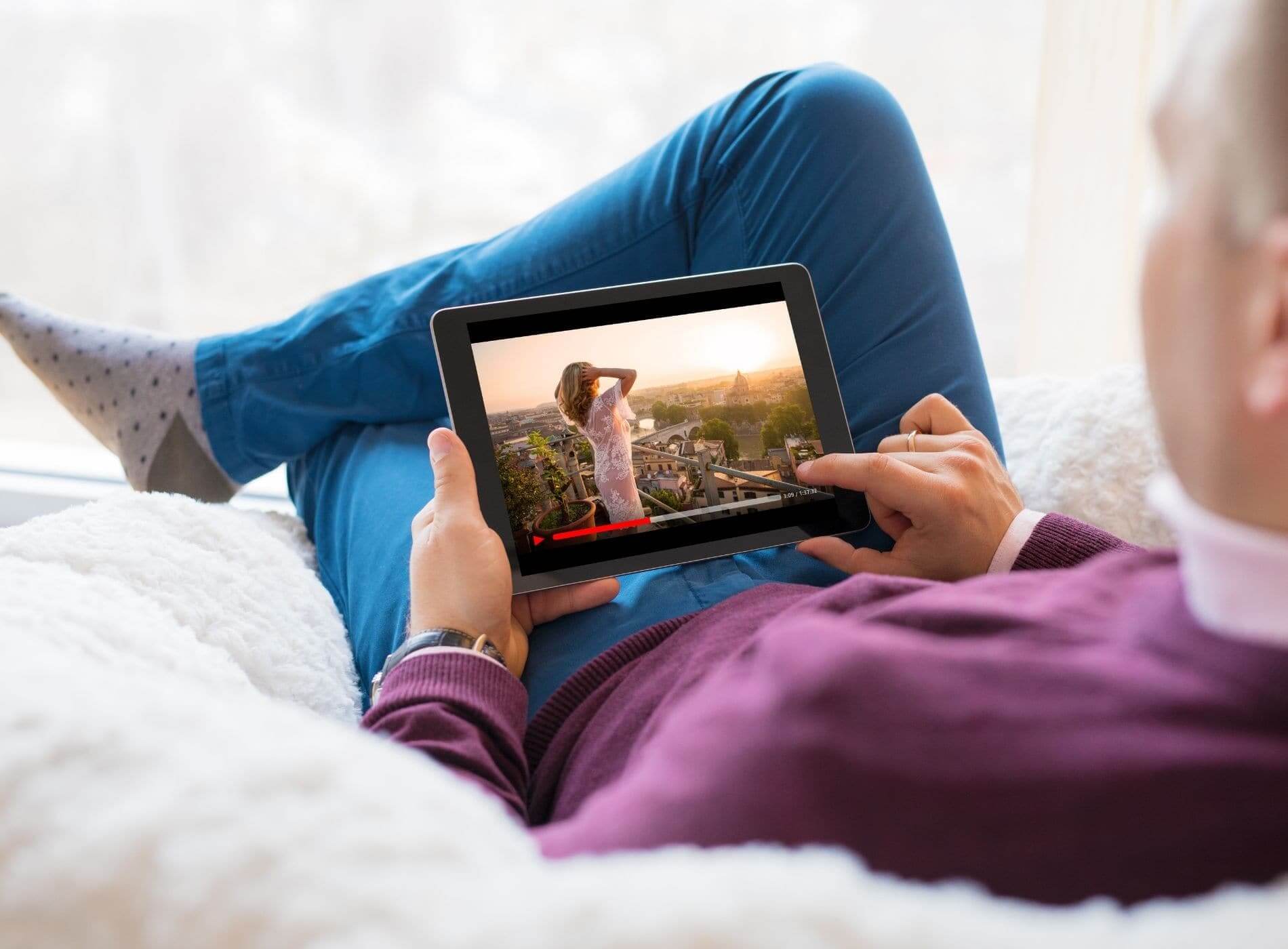 October 21, 2022

tech combact

0
Nowadays, tablets have evolved so much that most of them constitute an excellent device for multimedia consumption, which has been replacing laptops and smart TVs in this regard. After all, using a tablet to watch movies is much more comfortable, and the connectivity options are easier to carry out due to its similarity to smartphones.
But of course, any tablet serves for these purposes? Do all tablets play Netflix and Amazon Prime in HD?
In this article we suggest you discover what features a tablet should have to watch videos, as well as some highly recommended options currently available on the market.
What are the best tablets to watch series and movies?
Let's take a closer look at each of the features that make our selected models the best options for multimedia consumption:
1. Samsung Galaxy Tab A7: The best tablet for gaming and movies
The Galaxy Tab A7 tablet is living proof that watching movies on a Samsung Galaxy tablet is always a great experience. Even in this entry-level tablet, with a price of just over 250 $, without a Super AMOLED screen, we can enjoy videos in Full HD quality, with very good color, brightness and sharpness.
The 10.4-inch screen is a very interesting size for multimedia use, and the 4 stereo speakers with Dolby Atmos technology have a very powerful and full-bodied sound . For this reason, we consider it the best option to watch movies and play titles that are not too demanding.
Excellent build quality.
Very comfortable screen size for watching movies.
Very good quality sound.
Solvent storage and expandable by microSD.
Battery that allows between 7 and 8 hours of multimedia playback.
It does not allow transfer applications to the microSD.
The cameras have a very basic resolution.
RAM memory suffers with heavy games and multitasking.
2. Lenovo Tab P11: The best tablet for streaming
Another of the best options to watch streaming content and Netflix in HD is the Lenovo Tab P11 tablet: Thanks to its solvent 11-inch touch screen with 2K resolution (2000 x 1200p), its ultra-thin frames and its four stereo speakers.
The screen has excellent color and contrast, as well as brightness is very suitable for indoors and outdoors. The Snapdragon 662 octa-core processor and 4 GB of RAM allow for smooth performance, especially for multimedia consumption.
Best screen size-price ratio (11 inches/250 $).
Image of great sharpness, brightness and contrast.
Very good sound, with power and clarity.
64 GB storage expandable by microSD card.
Premium metallic finish and very light.
13-megapixel (rear) and 8-megapixel (front) cameras.
Does not include headphone output.
Android 10 will not update
3. TECLAST P20 HD: The best budget tablet for watching movies
Good value for money.
Adequate image and sound quality.
It has a slot for two SIM cards, it has Dual Wi-Fi and Bluetooth 5.0
6,000 mAh battery enough for 8 hours of multimedia playback.
It does not include any protection for the screen, and it is very fragile without a cover.
The screen exhibits a lot of reflections under controlled light
4. YOTOPT G12: The best tablet for kids to watch movies
Finally, if you are looking for a good tablet for your children to watch movies in the car, we leave you the YOTOPT G12 tablet. The truth is that it does not have a Full HD panel, as we recommended at the beginning, since it stays at 1280 x 800 pixels (HD), but for 120 $ we do not think you can ask for more .
It also has two speakers that although they do not have a sound to launch rockets, it is loud and clear . Add to this an octa-core processor, 4 GB of RAM and 64 Gb of storage, and your little ones will have a tablet for a while (as long as you buy them a good protective case and mica for the screen, because the ones it comes with are not very resistant) .
Support for dual SIM and micro SD.
Includes Bluetooth keyboard, mouse, capacitive pen, case and integrated screen protector.
The quality of the screen is fair, but for children it is excellent.
Good for simple games without much graphic load.
Sufficient autonomy for 6 hours of multimedia playback.
Android 9 no actualizable.
Very low resolution cameras.
Construction not very convincing.
Our winner: The best tablet for watching videos
As you can see, we have left you with a variety of devices that stand out either because of their size, their image and sound quality, or because of their value for money. And while it's up to you to choose which of these tablets best suits your needs, our pick for the best tablet for watching movies is:
Samsung Galaxy Tab A7
This entry-level Samsung tablet is without a doubt , with its size, resolution and sound quality, the best alternative (at a good price) for multimedia consumption . Being a decent contender in this sense, of great much more expensive models such as the Samsung Galaxy Tab S, the Huawei Mediapad or the Apple iPad.
What features does the ideal tablet have to watch movies and series?
Although any tablet that has a Wi-Fi connection, a functional screen and a pair of speakers can work to watch movies, it must be clear that this is not enough when what we want is to have a good multimedia consumption experience.
In our experience, a good tablet for watching movies should have:
Screen size and resolution
First of all, it is always more comfortable to read subtitles and enjoy special effects on a screen larger than 10 inches . These are highly recommended because despite letting us see every detail, they are still very portable and we can carry them in our bag or backpack.
Sure, if we don't go out that often, we can still look for an 11 or 12-inch one. Of course, as we increase the size of the panel, it is advisable to pay close attention to the quality of the screen: That is, that its resolution is equal to or greater than 1920 x 1080 pixels or Full HD .
Solvent hardware
It is of little or no use to have a super-screen if when playing streaming or offline videos, the tablet does not respond quickly and constantly crashes.
Therefore, we should make sure that our tablet has a processor with four or eight cores and more than 3 GB of RAM . Actually today it is not strange to find tablets for less than 200 $, with a format of 4 GB of RAM and 64 GB of storage, so these minimum specifications are not too much to ask for.
Storage capacity
When we look for tablets to watch free movies, we immediately think of a tablet with enough storage to download movies and then watch them offline, right?
Indeed, we should take into account a minimum of 32 GB of storage, although frankly today with the weight of movies, it is better to opt for a tablet with 64 GB to start with: although of course, this feature will make the product relatively expensive.
stereo speakers
You will agree with us that it is not possible to enjoy a series or movie if the sound is canned or you have to bring the speakers close to your ear to distinguish what is being said. For this reason, choose a tablet with 2 or 4 speakers (there are even 6!) and stereo quality, so that the sound is powerful and enveloping.
Requirements to watch Netflix on a tablet
Many users wonder: what does a tablet have to have to watch Netflix? And the logical answer is "nothing special", because the browser to access Netflix has all of them.
However, if what you want is to watch Netflix on your tablet in HD quality, it is necessary that the tablet has a Widevine L1 Certificate. This certification allows tablets to play content from streaming platforms such as Netflix, Amazon Prime, etc. in HD resolution. If you do not have it, you will only be able to see the videos in 480 pixel resolution.