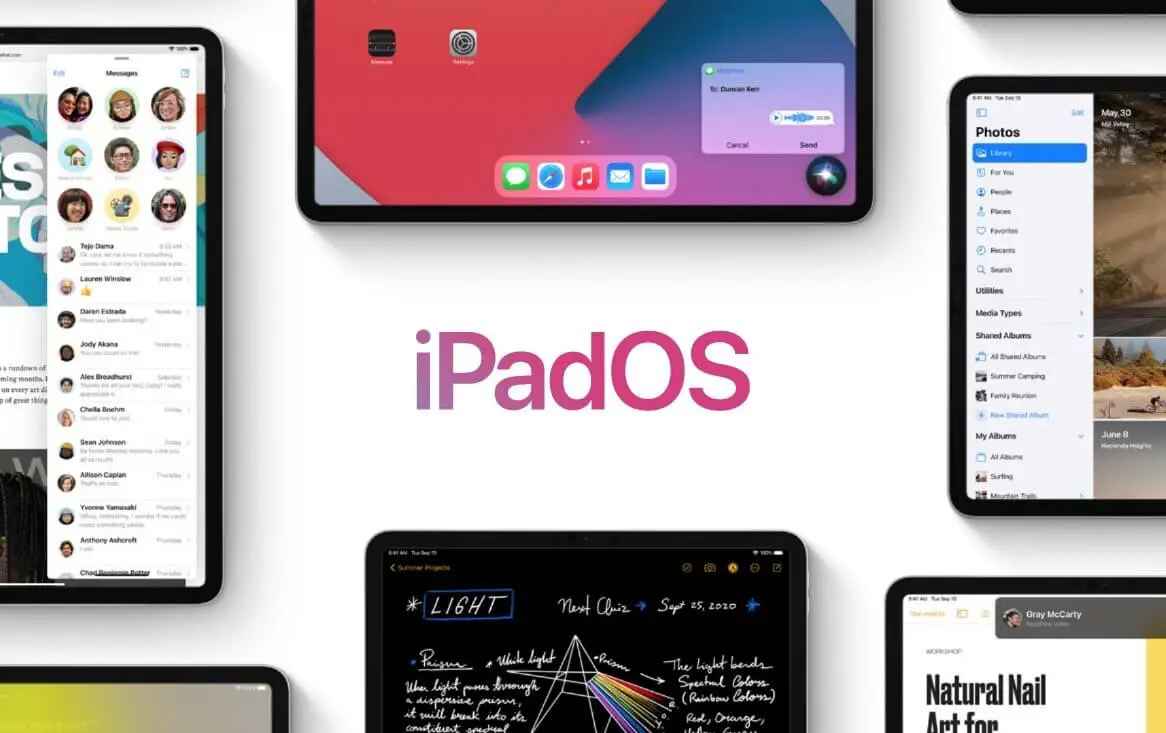 October 21, 2022

tech combact

0
How to upgrade your old iPad without much hassle? Today we show you two tricks that will help you rescue your device from oblivion. This can still bring you a lot of value, do not just throw it away.
How to update an old iPad to a newer version?
A while ago the iPad was one of your favourite devices. Time passed and now it seems outdated, out of fashion. What if you give him a second chance?
With these tricks that we are going to teach you, your old iPad will serve you again to work, play, watch movies, series, surf the Internet, or whatever you have in mind. For this, you just need to learn how to update it.
The first thing you should know is that not all iPads are updated to iOS 10, 11, 12 or 13 versions. We hope your old iPad is not in this condition. However, if so, we feel your disappointment, but this is how Apple works and almost any brand.
Take a look at the table below to check the latest installable version of iOS to an iPad (source https://iosref.com/ios).
LATEST INSTALLABLE VERSIONS:
| Device | Released | Max iPadOS |
| --- | --- | --- |
| iPad Pro 12.9″ (gen 1) | 2015 | 9 |
| iPad mini 4 | 2015 | 15 |
| iPad mini 3 | 2014 | 12 |
| iPad Air 2 | 2014 | 15 |
| iPad mini 2 | 2013 | 12 |
| iPad Air (gen 1) | 2013 | 12 |
| iPad (gen 4) | 2012 | 10 |
| iPad mini (gen 1) | 2012 | 9 |
| iPad (gen 3) | 2012 | 5 |
| iPad 2 | 2011 | 4 |
| iPad (gen 1) | 2010 | 5 |
As they explain, they block some updates because the hardware of their generation is no longer sufficient to run the new iOS software. Or they claim that you have too many updates that are incompatible with your generation of iPad.
10 iPad Models That CAN'T Be Updated To Current Versions
Below we show you those iPads that can't be updated, according to their version of the operating system or generation.
NOT UPDATABLE:
| Model | Latest iOS Version | Release Year |
| --- | --- | --- |
| iPad | iOS 5.1.1 | 2010 |
| iPad 2 | iOS 9.3.5 | 2011 |
| iPad (3rd generation) | iOS 9.3.5 and iOS 9.36 for mobile versions | 2012 |
| iPad (4th generation) | iOS 10.3.4 | 2012 |
| iPad Air (1st generation) | iOS 12.5.4 | 2013 |
| iPad Air 2 | iPadOS 13.7 | 2014 |
| iPad mini (1st generation) | iOS 9.3.6 | 2012 |
| iPad mini 2 | iOS 12.5.4 | 2013 |
| iPad mini 3 | iOS 12.5.4 | 2014 |
If your iPad is NOT on this list above, get to work and use one of the next tricks to update your iPad.
What You Need to Update an iPad
Updating an iPad can be a simple process, but there are a few things you will need to make sure you have in order to successfully complete the process. The first thing you will need is the latest version of the iTunes software, which can be downloaded from the Apple website. Additionally, you will need a Lightning cable, which is used to connect the iPad to your computer. Finally, you will need a reliable Wi-Fi connection in order to download the update.
Lightning Cable
The Lightning cable is used to connect the iPad to your computer. The cable is also used to charge the iPad. The cable should be included with the iPad, but if not, it can be purchased separately.
Wi-Fi Connection
In order to download the update for your iPad, you will need a reliable Wi-Fi connection. This can be either a public or private network, as long as it is strong and stable.
iTunes
The iTunes software is required in order to update an iPad from a PC. iTunes is a free software that is available for both Mac and Windows computers. The software is used to manage music, videos, and other content on your iPad. Additionally, it is used to update the iPad with the latest version of iOS.
Trick 1: Update your old iPad over the Internet (from iPad settings)
To update the old iPad through the Internet, the first thing to do is to check that your device is connected. To do this: enter the ‹Device Settings› menu with the typical wheel. Then go to ‹General Menu› and access ‹Software Update›. Sometimes it takes a little longer than we expect, but don't despair. This path will definitely tell you which version you can upgrade to.
Take advantage of this moment to activate the ‹Automatic Updates› so that little by little it will be restored as new options are developed. If you choose this option, keep in mind that there are updates that may have bugs for your iPad model. However, this is not the most common.
This is not finished yet. Then you have to download and install the version indicated by your iPad. Verify that you have a stable Internet connection. In addition to that, according to Apple's rules keep your iPad with the battery charged. If you do not comply with the latter, your update will not be installed. There is no mystery in this. It is a security measure so that you do not run out of battery at a critical moment.
Trick 2: How to update an old iPad from the computer?
The other option we have for you is to have a computer with iTunes. In this case, it doesn't matter if it's Mac or a PC. You just have to follow the following steps:
Locate your lightning connection cable to get started
Check that you have iTunes installed. If not, please download it first.
Connect your iPad to your PC or Mac through the lightning cable (remember this is the charging cable for Apple devices, or with which the iPad is charged).
Now that you've connected it, you'll see iTunes automatically open.
Go to the ‹General menu› and then to ‹Settings›.
Locate an option that says ‹Check for Updates›, that's ours.
iTunes will proceed to check for the update for your device, download it, and install it.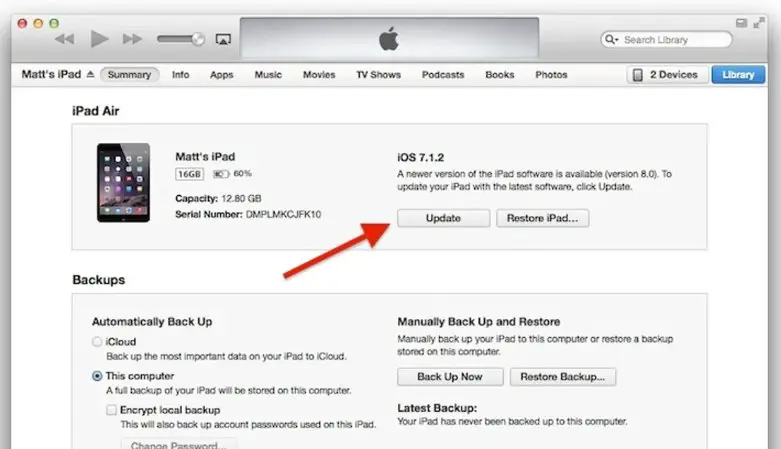 Clever! We have already managed to update your old iPad. Either of these two tricks will work for you. Check before your model is not on the list that we shared with you at the beginning. Now you can enjoy your device, because it has been like new.
Frequent Questions
To finish, we leave you some of the questions that iPad users usually ask themselves regarding the topic that we have discussed today. We invite you to take a look at them, perhaps there is some question of yours resolved among them:
What to do if my iPad no longer updates?
If you've tried to update your iPad and can't, it may be for one of the following reasons (check these solutions):
There is not enough storage space available on your device
If there isn't enough space for the update, your device's software will delete data from apps that you can download again later.
Another option is to use your computer to update it. To do this you just have to follow Trick 2 that we teach you.
If you can't connect your device to your computer, make room for the update by deleting content and apps you don't use. Go to Settings > General > (name of your iPad) Storage.
Update download takes a long time
To improve download speed, avoid downloading other content at the same time. It is recommended that you use a Wi-Fi network.
Unable to access update server
If you can't access the update server or you can't verify the update, please delete and download the update again. If you still can't install the latest version of iOS for your old iPad, try downloading the update again.
How to update iPad 9.3 5 to iOS 10?
The fact that your iPad has reached the end of version 9.3.5 indicates that it is a 32-bit model. You are at the end of the road for your current device. You cannot run the new operating systems as they are 64-bit software.
How to update iPad 9.3 5 to iOS 11?
If your iPad is an iPad Air 1 or newer, or an iPad Mini 2 or newer, you can find the update option in: ‹ Settings › ‹General› ‹Software update›.
If your iPad is stuck on iOS 9.3.5, and it shows its up to date, you probably have an iPad model that can't be updated past that version of iOS.
How to update an iPad iOS 9.3.5 to 12?
To update version 9.3.5 of the iPad, we must first review the model. If your iPad is "wifi only 3rd generation model", unfortunately iOS 9.3.5 is the latest version and there will be no update for iOS 10, 11, 12 or 13.