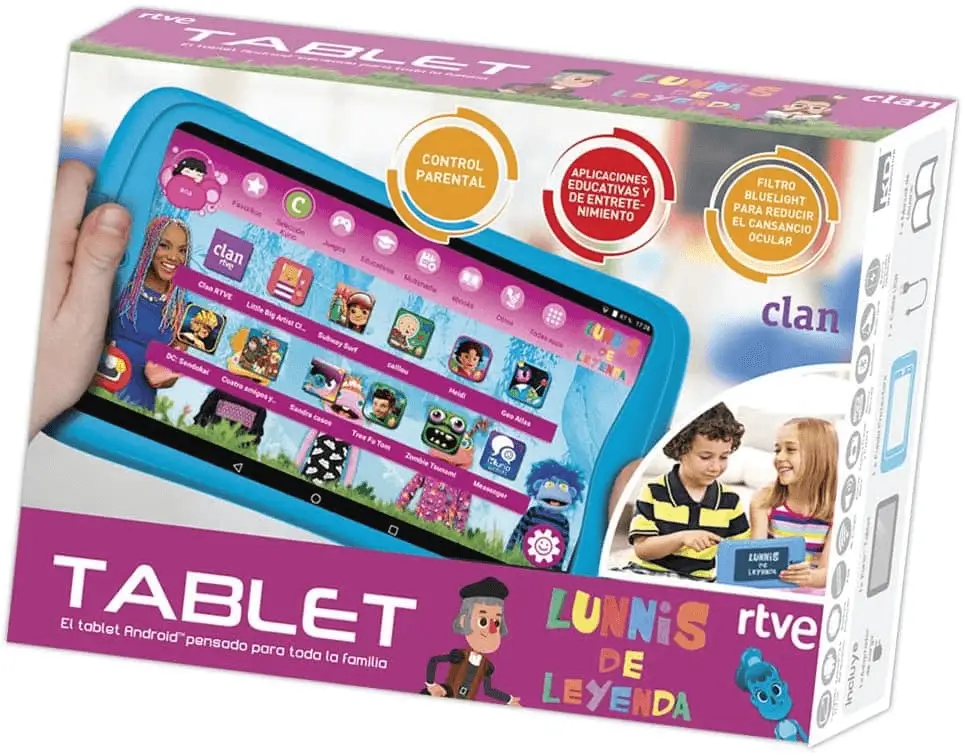 November 19, 2022

tech combact

0
Clan TV is a very popular channel for children in our country. And surely if you are aware of the latest products related to RTVE, you already know that the Clan TV 2 tablet has already been on the market for some time.
But, before running to buy it for your child because of its pre-installed educational apps, or its parental control system. Wait! Just take a couple of minutes to read our clan 2 tablet review and opinion.
Find out if it is really worth buying this tablet for children, and how it really works, beyond the advertising strategies of television and the manufacturer Cefatoys, where the Clan Lunnis tablet comes from.
Clan TV Tablet Features at a Glance
Before we start, we would like to talk a little about the origins of the Clan tablet, to better understand the type of product we are talking about and how it has evolved until this latest model that arrives in 2021.
The first Clan TV tablet was launched in 2012, which was widely accepted and became the best-selling toy in Spain that year. For its time, the tablet may have been a blast, considering the tablet market was virtually non-existent.
Due to the success of the first Clan tablet, the RTVE channel of the same name decided to launch the Clan 2 tablet this year. In the advertisements, it is claimed that it is a much more powerful tablet than its first version from 9 years ago.
But, is it really on par with tablets of the same price that we can find on sites like Amazon?
Let's review its features one by one and how it has worked for the Droiders team when testing it:
Protective case and 7-inch screen
This 7-inch tablet is designed for our children due to its size, which is portable, and its super-resistant silicone case. What if it may not be convenient for the little ones, is that it has a weight of 500 grams, which is somewhat heavy for them.
The screen is a very simple panel, with an adequate tactile response, but whose contrast and sharpness leave something to be desired. The resolution of 1024 x 600 pixels is a bit less than HD, and you can see the pixels when you zoom in.
The viewing angles are quite limited, and if we move the screen to the sides a little, the image is almost impossible to see. Although it has a blue filter to take care of the child's eyes, the brightness is still very high in low-light places.
Pre-installed educational apps
One of the sales strategies of this tablet is that it includes applications from different Clan TV programs, there is a version inspired by the Lunnis de Leyenda show, and another in the latest animated version of the Teenage Mutant Ninja Turtles.
We have acquired the Clan Lunnis tablet, which brings the Clan a la Carta, Clan Pinta y Colorea, DC Sendokai Run and Maya Bee apps. It also has Play Store games like Cut the Rope, Angry Birds Space, etc.
Bring children's ebooks and little else. The problem is that these applications occupy almost all of the available internal space, so downloading and installing more apps becomes cumbersome.
Google Play Store and KIDOZ Store
You can download apps from the Play Store, and by including Google Play services you can watch YouTube, however, the viewing experience is very slow and not very enjoyable due to the quality of the screen.
It is also possible to access the KIDOZ and Kurio App Store app stores, which have recreational and educational applications for children.
8 user profiles for the whole family
Up to 8 user profiles can be created in case you have more than one child, but we really don't think it's a suitable tablet for storing content or installing apps in different sessions for children of different ages.
This tablet is intended for children between 5 and 7 years old, but older children will already notice the slowness and the inability to install as many games as they want.
Kurio Genius Parental Control
The Kurio Genius app allows you to establish parental controls regarding access to applications in the Play Store, and you can even block certain installed apps.
It is possible to program the game hours to avoid the effects of the screens on the little ones. Additionally, web filters can be set to prevent inappropriate content.
Quadcore processor and 1 GB of RAM
In terms of hardware, we have a tablet powered by a quad-core processor of which no brand is specified, and 1 GB of RAM, which really makes the tablet work for simple applications, reading digital books and videos in medium resolution, but little more.
As we mentioned, for a young child who is just beginning his interaction with touch devices and has no expectations regarding the speed and possibilities of a device like this, it works very well. But as a tablet for school or for your child to develop his skills, it falls far short.
8 GB of storage expandable up to 32 GB
The 8 GB of storage is frankly insufficient space, considering money we find Chinese tablets with an average of 32 GB of internal memory.
The storage is almost full due to the preloaded content, so with a couple more apps the tablet fills up and does not allow you to continue downloading . If you put a micro SD up to 32 GB you can still save content there, but coming with an outdated version of Android and such a basic microprocessor, you can not install applications on the SD card.
Front and rear cameras
The tablet includes 2 sensors to take photos, the rear camera has 2.1 megapixels, and the front 0.3 megapixels . It is, of course, a couple of toy cameras for your child to experiment with photography, but on that part we had no expectations.
Android 4.2 and mini HDMI
We had already commented on the limitations of Android, which comes in version 4.2. In addition to not being compatible with a large number of current applications, it prevents the installation of apps on external memory.
The good thing in terms of connection possibilities is that the tablet can connect to Wi-Fi, although only at a speed of 2 GHz . In addition, it has a mini HDMI connector, in case we want to connect it to the television.
Our opinion: Is it worth buying the Clan tablet?
tum sdf ki baat ni kro isky samny The Clan TV tablet is priced at Amazon for 120 $, while at other distributors it is around 150 and 160 $.
Back in 2012, this tablet may have been a great success, even with fewer features, because at that time the first Android tablets were barely coming out. However, nowadays, you can get better kids' tablets for that money.
We buy a separate protective case, we add parental control applications, which are plenty on Google Play, and we have a device with a much better screen and performance, and which may also last longer for our son in his first years of study.