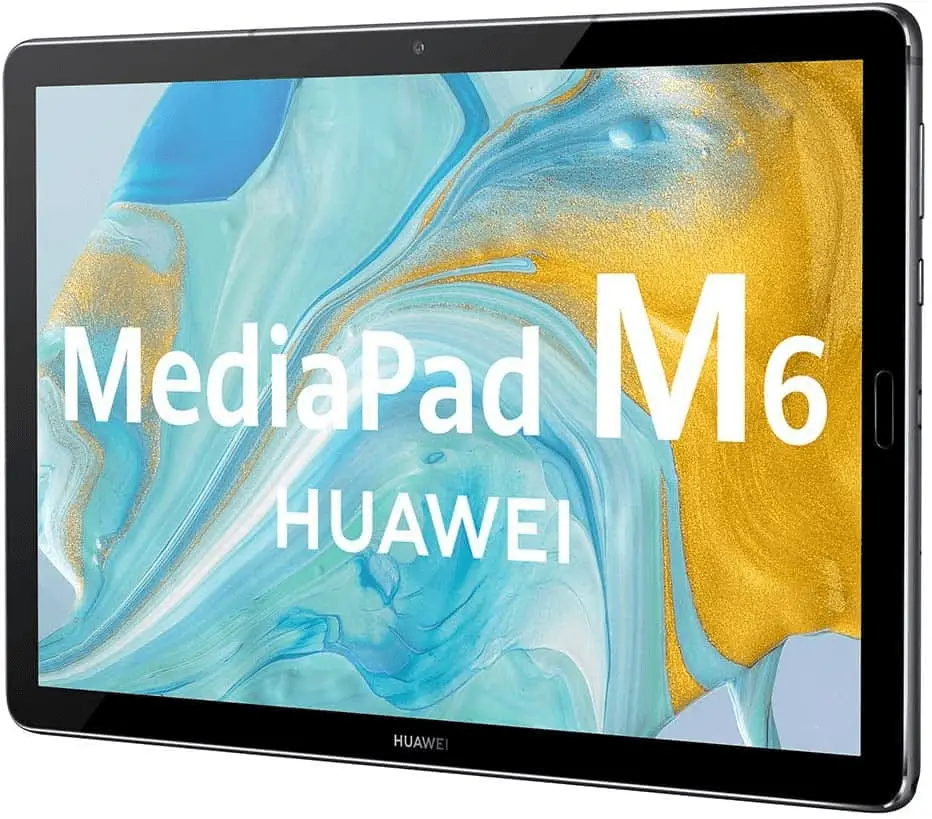 November 19, 2022

tech combact

0
Today we are talking about one of those that could have been one of the heavyweights in the Android tablet market in 2020 and 2021: the Huawei MediaPad M6 tablet, which comes to us as a high-end device at a mid-range price.
As you may already know, China is currently in a trade war with the United States, so Huawei cannot include Google Services (GMS) in its devices.
In any case, in this post, we propose to first know the opinions of users about this tablet, and then we share our analysis of its characteristics: both the lights and the shadows.
Opinions about the MediaPad M6
We start with the opinions that buyers and users have about the Huawei M6 model. We invite you to review the most interesting comments:
"Before any other consideration, it should be clear that it comes without Google Services, but this is not a big problem because you can install them unofficially. Although it is not so easy for the inexperienced. As for the tablet itself, I think it is a high-end one at a bargain price, due to the issues of the aforementioned Google services"
"The processor is a beast. The 2K screen is super powerful, and the sound is spectacular"
"It is a high quality tablet with a price of just over 250 $, without a doubt a bargain. As against, I can only say that it does not have Widevine L1 certification, which means low resolution on platforms such as Amazon Prime or Netflix. If this, together with Google services, doesn't matter too much to you, then don't even think twice about buying it "
In particular, we are left with this last opinion of a user, because it is very true that the biggest problem with this tablet is at the software level, and is due to the handicap of Google Services.
However, as you rightly state in your opinion, there are alternatives and beyond this mishap that is not the fault of the manufacturer, it is a device with excellent features.
But hey, we won't go any further on this topic, which at the moment has no remedy, and we leave you our review of the Huawei MediaPad M6 10.8", as it has come into our hands:
Design and materials
We always like to start with the overall look and feel when discovering the device from its packaging. We have in the first place a large and thin tablet, with a metallic rear finish, and front frames that are a little thicker than we would like in terms of taking advantage of the screen: it occupies about 78% of the front.
The placement of the buttons, speakers and fingerprint sensor is correct, and the only thing we can really find room for improvement is that the camera protrudes from the chassis, hence the tablet wobbles when we press on the corners.
But this aspect is easily solved with a protective cover, so we do not give it more importance.
Screen
The 10.8-inch screen is IPS type, which we would have preferred to be OLED for a contrast issue. However, the saturation level is excellent, giving vivid colours and an unrivalled level of brightness, which doesn't fade in broad daylight.
We have a WQXGA or 2K resolution, with a density of 280 pixels per inch, which will not disappoint gamers or those who prefer to consume content in high definition in terms of movies, series and browsing.
Speakers
In this section, Huawei takes the laurels: The sound system is exceptional and it must be recognized, thanks to Dolby Atmos, we have to surround sound and great power.
Physically we have 4 very well placed speakers, together with 4 microphones with noise cancellation for video calls.
Hardware
The performance is typical of a heavyweight among Android competitors since the Kirin 980 moves everything we ask of it, and although the RAM seems somewhat scarce for multitasking (especially for demanding apps) it does not fall short at any time, no lags or delays in the opening of latest generation games.
The 64 GB of RAM is enough, but this will depend a lot on the use since it could easily be filled with apps. Although this inconvenience is remediable with a micro SD memory.
Operating system
As we anticipated, the absence of the Google ecosystem is a great drawback in the user experience of the Huawei MediaPad M6 in Spain and the rest of the world.
But, perhaps if you are an inexperienced user in these matters, you do not know the scope of said affectation all of a sudden. We refer to:
Not being able to sign in with your Google account.
Not having access to Play Store, Netflix, Spotify and other similar platforms.
Not being able to download (at least through the Play Store) Whatsapp, Instagram, Facebook, YouTube, Gmail, Google Photos, etc.
Obviously, all of this can be fixed by installing apps. Well, it's not Huawei and its OS prevents you from downloading the apps, so once you get them, you can install and use them (some more easily than others).
Let's look at some of these alternatives:
You can access YouTube from any browser you have installed, but if you install the apk you won't be able to use it because GMS is missing.
In APKMirror you will be able to find all the apps like Whatsapp, Facebook, etc. That after installation are used without major mishap. All except Spotify.
You will find the latter in Aptoide, along with many more, but not all of them are verified, and this can create some mistrust in terms of security.
Also note that EMUI 10 is a fairly heavy customization layer, but that the hardware moves smoothly despite the apparent limitations in terms of RAM.
cameras
We never really expect big surprises in this section, since it is not at all comfortable to take photos with a tablet when you have the Smartphone within reach of your pocket. Anyway, we can say that, on this occasion, we have found a camera with enough sensors for excellent photo quality in good lighting conditions.
We are talking about a 13 MPx rear camera that can record in 4K, although the result limps a bit in stability and speed of focus. The rear camera has 8 MPx which is really not bad, it will be more than enough for video calls and average use.
Battery
In the battery section, we find a generous 7,500 mAh, which provides up to 2 days of autonomy with normal use. Fast charging will allow you to have the device at 100% in two hours.
Additional features
As you would expect from a tablet that competes in a top-of-the-line league, it has some extra cool features:
face recognition
password manager
Parental control
App lock
Different sound modes from Dolby Atmos
Desktop mode (which works like a mini-computer)
native dark mode
And surely we have some other out there, if you decide to buy it, we would love for you to tell us what other extras you found…
Our Conclusions
Without much more to say, here we leave our conclusions of the Huawei MediaPad M6:
In our opinion, it is a very good tablet: in terms of specifications, performance and fluidity, especially considering its current market price. However, the limitation of the Operating System makes it difficult for Huawei to keep its products positioned in the market, at least outside of China.