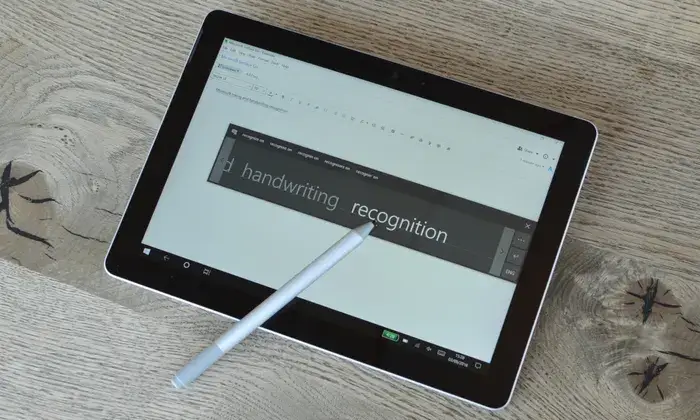 October 21, 2022

tech combact

0
Not all people are used to taking notes on their tablet as if it were a notebook. However, writing on a tablet as if it were a notebook is not only possible but also makes studying, mental maps, and all kinds of brainstorming much easier.
In this post, we will show you the different tools that exist to turn your Tablet into the only notebook you will need to go to school or to the office.
---
How to write on a Tablet as if it were a Notebook! Methods
---
Apps to write and take notes on an iPad or Android Tablet
There are always devices that make note-taking much easier by including a physical keyboard or stylus. But even if not, you can buy a digital pen and download any of the following applications to use your Tablet as if it were a notebook:
For Android:
In the case of Android, the offer is so wide that it is sometimes difficult to decide on a specific application. But, we assure you that, if you choose any of these three, you will find all your expectations satisfied:
1. Squid
Squid is a very versatile app that allows you to:
Create note pages with different paper backgrounds such as ruled lines, sheet music, grids, etc.
Create different notebooks, each with its own characteristics and names.
Toggle between pen, highlighter, eraser, shape picker, etc.
Allows you to insert text and images.
Support multiple page layouts in a single notebook.
The app itself is free but requires a subscription to purchase extra features such as PDF import, which costs $1 per month, or $10 per year.
Here below we leave you a tutorial on how to use Squid :
2. Write
With Write, you will have options very similar to Squid, including:
Draw, write, underline, erase.
Cut, copy, duplicate and paste images, graphs, and tables.
Change the color of the elements and the thickness of the pen.
Import PDFs to write on them or highlight parts of the text.
It also has paid features, which you can unlock after a monthly or annual subscription.
3. WeNote
Evernote is a more discreet app, totally free, that will allow you to:
Add notes via virtual, wireless keyboard and stylus.
Highlight, cut, delete, move and clone notes.
Speech to text conversion.
Document scanning.
Add images, texts, and geo-tagging.
Back up to the device and to the cloud.
Add tasks and reminders.
Share notes via email.
The best Apps to write on your iPad as if it were a notebook
iPads offer the best stylus writing experience by far, with its Apple Pencil model you can achieve very fluid writing. And above all, the 12-inch iPad Pro makes it easier to write with your fingers using the virtual keyboard, due to the ergonomics offered by its Smart Cover.
Now, when it comes to apps compatible with iOS, here we have three very complete and fantastic options to turn your iPad into a notebook:
1. Notes (comes installed on all iPads)
We wanted to start with an app that, although it doesn't offer as many functions as those mentioned below, is the native iPad app for writing notes, and it's also totally free. It allows you:
Create folders and subfolders, to keep your writings organized.
Add, edit and stick notes, as well as insert images and tables.
Write by hand, using external or virtual keyboards.
Protect your notes with a password or with Face ID or Touch ID biometric security options.
Among other options that you can explore if what you are looking for is a free and relatively complete application.
We leave you a very complete tutorial so that you know the potential of this simple app:
2. Goodnotes 5
GoodNotes, in its latest version, offers an intuitive interface and a series of quite complete free features, as well as other Premium ones that complete the virtual experience of a notebook:
Writing, notes, underlining.
Add images and tables.
Move and duplicate elements.
Allows you to zoom in on the writing.
The eraser is very precise.
Sync with iPad and iPhone.
Export to print.
Laser pointer option.
Movable stickers.
Support multiple page styles in a single notebook.
The only drawback, in contrast to other apps, it does not support voice memos or automatic backups in iCloud
Watch this introductory video and tutorial on using the app:
3. Notability
This app also offers you functions very similar to those of Goodnotes, in addition to having the option to add voice notes.
However, it does not have a laser pointer, nor does it support multiple page styles. Also, the experience with the Apple Pencil is not as smooth due to the fact that the app does not allow you to zoom the notes . The eraser, due to this same zoom limitation, is not as precise either.
Check this interesting review of the app:
Advantages of using a tablet as a digital notebook
Perhaps it is still not entirely clear to you why it is so useful to replace notebooks and sheets of paper with digital notebooks on our tablets.
The truth is that it is not only about advantages for our economy and comfort, but also to carry out an alternative that will reduce the felling of trees and the consumption of paper.
Regardless of whether or not we have an environmental mentality, the truth is that there is a lot of practicality implicit in using a Tablet as a notebook, for the following reasons:
You can carry out the same notes as reports, due to the versatility offered by new technologies to characterize the notes at a personal, academic, or professional level.
It's easier to keep backup copies of your notes. Neither will you lose your sheets and pens, nor will you waste time looking for them.
You will be able to access your notes from any device when you make copies in the cloud.
You will have more orderly and legible notes, all in one place.
Erasing mistakes is easier, so you won't have smudges or correction smears on your sheets.
It will be easier to add images, graphs, and tables, as well as stickers and other visual elements.
You will carry fewer books and notebooks since you will be able to import your PDFs to your Tablet.
You will have a wide variety of tools to customize your notes, such as bookmarks, different fonts, colors, etc.
You will have no problem writing on any surface, as the Tablet offers the support you need, unlike conventional notebooks that are flexible.
You will save a lot on school and office supplies.
We think these are plenty of reasons to start carrying your Tablet as a notebook, agenda, or planner everywhere. What are you waiting for?
We wrote an extensive article about tablet displays, you may want to read it out.