October 21, 2022

tech combact

0
In this post, I will tell you about my experience with Huion Inspiroy Ink and XP-PEN Deco Pro, with both drawing tablets you can work very well connected to Android mobile phones.also I will tell you How to use your graphic tablet on Android?
The brand of phone you use for the connection is irrelevant, as long as the operating system is Android. In this system, compatible graphics tablets work perfectly, it is as if you were using them on a normal desktop computer.
Can a graphics tablet be connected to a tablet?
Although from the title it is deduced that it is possible, we reiterate it in the same way: Yes, a graphics tablet can be connected to a tablet, you just have to make sure that they are compatible. For example:
XP-PEN supports connections with Android 6.0 and above tablets.
HUION is compatible via USB with all Android smartphones and tablets that have a USB type C port.
Wacom in its One model (tablet with monitor), is compatible with some Samsung and Huawei mobiles, while the Intuos model is compatible with most smartphones with a USB-C connector.
How to connect a drawing tablet to a phone in easy steps?
Tablets that can be used with mobile phones come with small adapters to ensure compatibility with certain smartphones and tablets that use the Android operating system.
When you buy them, they usually come with two adapters in the box. Now, you should check the port of your phone and that it matches the adapter you choose.
Although you only need one adapter to make the connection, since different phones have different ports, you will need to use the adapter that is compatible with the specific port on your phone.
Drawing tablets connect to computers via a USB cable. Just follow these simple steps to connect your graphics tablet to an Android device:
Connect the drawing tablet's USB cable to the adapter
Connect the adapter to the mobile phone
After these steps, the drawing tablet will automatically start to work on the mobile phone, and the stylus pen will work like a mouse on a computer. You do not need to install any special drivers to get these basic functionalities.
Of course, for other more specific settings such as pressure sensitivity, you will have to rely on the ability of the application you use to draw.
Which graphics tablets do we recommend?
In particular, I have had very good results with the Huion Inspiroy Ink. This tablet works on both computers and Android phones and has a feature that makes it unique among all other drawing tablets:
On the Huion Inspiroy Ink, both sides of the board can be used for drawing. One side works as a standard drawing tablet, while the other is an LCD drawing tablet that will allow you to capture your ideas anytime, anywhere, without connecting the tablet to other devices.
On the other hand, the XP-PEN Deco Pro Small is not far behind. I consider it one of the best among cheap drawing tablets.
It has a surface that feels like regular paper, a larger-than-average drawing area, and a dial that lets you zoom in and out of the canvas more easily. In addition, it has guide lights on the edges of the drawing area that make it easy for the artist to see the tablet even when drawing in the dark.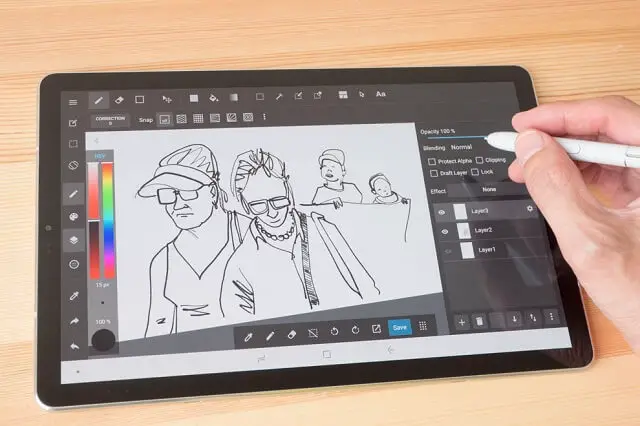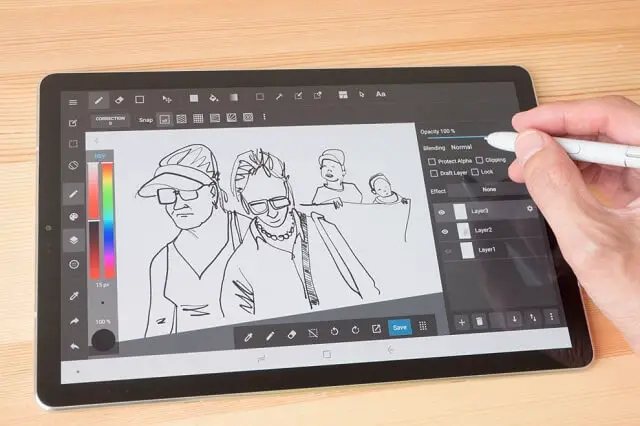 What creative programs can you use to draw on a mobile phone?
You need to download a drawing app to draw on a mobile phone. The applications offer the most important functions of complete programs such as Adobe Illustrator and Adobe Photoshop.
Although I have tried the two drawing tablets, Huion Inspiroy Ink and XP-PEN Deco Pro in many different applications, the one I liked the most was Medibang Paint.
The choice is something personal, it depends on your preferences, you just have to take into account the tools that work best for you. You can start by installing at least 3 different apps and try them out.
Here are three options for you:
1. Medi Bang Paint
This is a FREE digital comic painting and creation program with lots of brushes, fonts, ready-made backgrounds and other resources. Some of the many advantages of MediBang Paint are a large number of brushes it includes and its simple and intuitive interface.
2. Infinite Painter
Infinite Painter brings the best in graphic design software to artists of all skill levels, whether creating art is your hobby, passion, or career.
In this app you will find familiar concepts such as layers, shapes and selection tools, as well as some unique innovative features. It features nearly 200 brushes to choose from, ranging from natural media brushes like watercolours and charcoals, as well as over 100 customizable brush settings.
With Infinite Painter you can also attach almost any tool or action to the main interface for quick and easy access, offering the best balance.
3. Photoshop Express
Photoshop Express is a fun, fast, and easy image editor for one-touch photo edits and transformations. It offers a wide range of tools and effects. Among other multiple functions, with this editor, you can fix and retouch photos as well as personalize them with a whole series of borders, stickers and watermarks.
The use of the graphic tablet connected to the mobile phone, in particular, I see as a useful alternative, in case my laptop runs out of battery and I have no other place to draw. This is because the screen size is so limited that I just can't draw for too long.
Also, as mobile phones are shaped differently from drawing tablets, the drawing board does not perfectly match the mobile phone screen. Therefore, only one half of the drawing tablet is assigned to the mobile phone, while the other half is completely useless.
Depending on the drawing tablet you get, you may need to physically change the orientation of your device.
In any case, I hope you can make the connection without problems and that this information has helped you to enjoy creating to the fullest. Let me know in the comments how your experience has been!
As a BONUS, I leave you with this excellent video in which the illustrator Raysama uses Clip Studio on Android with a Wacom graphics tablet. Enjoy it!
Frequent Questions:
We finish by answering the questions that users usually ask themselves regarding today's topic:
How to connect Wacom to Android?
Not all phones are compatible with Wacom, so I'll explain how I managed to connect my Wacom tablet to my cell phone. We have had this possibility since November 2019, when Wacom Intuos (models CTL4100 and CTL 6100) became compatible with select Android smartphones and tablets running Android OS (6.0 or higher).
To achieve the connection, you just have to:
1. Pay close attention if your Android device is compatible with Wacom (you can take a look at the official compatibility list here).
2. Then use a USB OTG adapter and connect your pen tablet to the device..
3. Finally, update the firmware of your Wacom Intuos using the Wacom Desktop Center software.
How to connect my Wacom to my iPhone?
Wacom does not yet include support for iOS (but it does for MacOS), so you will not be able to connect your Wacom tablet to your iPhone or iPad. The best thing is that if you have an iPhone or iPad you buy a compatible Apple Pencil, and use it directly as a drawing tablet.
How to use an Android device as a graphics tablet?
To use your device as a graphics tablet, follow these steps:
1. Download the VirtualTablet Lite (S-Pen) app on your phone or tablet.
2. Download and install the VirtualTablet Server program on your computer.
3. Start VirtualTablet Server on the computer after installation. If you plan to connect via
Bluetooth, when prompted, allow the search.
4. After you get the server up and running, launch the VirtualTablet app on your phone or tablet, and then select your connection type: Wi-Fi, Bluetooth, or USB (for the last point, you'll need to enable USB debugging on Android).
5. When using a Wi-Fi connection, if both devices are connected to the same network, you will see a list of servers in the app (or you can manually enter the IP address). Select the server you want and click the "Connect" button in the app.